Macquarie Island
UPDATE 27 March:  Click here to read about preparation activities on the island prior to the arrival of the MIPEP team next month. 
On 20 April the Aurora Australis is due to arrive at the island to restart the Macquarie Island Pest Eradication Programme (MIPEP) following last year's failed attempt due to unrelenting poor weather that kept the helicopters grounded for weeks (click here).
Twenty-eight Tasmania Parks & Wildlife Service staff and contractors and four Eurocopter AS350 Ecureuil "Squirrel" helicopters will undertake the 2011 aerial bait-laying phase of the eradication of Macquarie's rats, mice and rabbits.
Earlier TASPARKS rangers based on the island have observed a reduction in rabbit numbers following the recent release of rabbit haemorrhagic disease virus (rabbit calicivirus) in hand-spread carrots as a preliminary form of biocontrol prior to the recommencement of helicopter baiting (click here).  Since distribution of the virus commenced, rabbit numbers have been very significantly reduced across the island, and in Hasselborough Bay numbers seen have decreased to zero.  Reduction of rabbit numbers prior to dropping poison bait this year is an attempt to reduce the high numbers of birds killed as a result of secondary poisoning (click here) during and following the aborted 2010 eradication effort.
Once aerial baiting is complete, highly-trained hunting dogs will scour the island to locate any surviving rabbits.  Field work to complete rabbit eradication is expected to take up to five years.
News from http://www.parks.tas.gov.au/index.aspx?sys=News Article&intID=2225 and http://www.antarctica.gov.au/living-and-working/stations/macquarie-island/this-week-at-macquarie-island.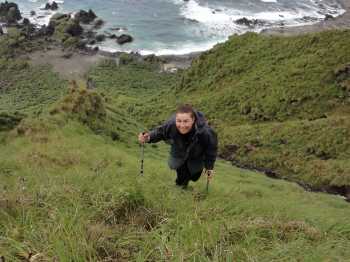 South Georgia (Islas Georgias del Sur)*
Phase One of the aerial baiting programme to eradicate rats from this South Atlantic island is nearly complete, according to No.6 of its newsletter Project News, issued this month.
Baiting commenced on 1 March and good weather (unlike at Macquarie in 2010) has allowed aerial baiting to proceed apace and by the middle of the month all three of the major objectives of Phase 1 (Greene and Thatcher Peninsulas and Mercer Bay) had been treated.  This leaves only Saddle Island (estimated as only a half day's flying) to receive poison bait.
The next stage of the programme is to continue to raise the funding required to eradicate rats from a further 80 000 ha of the island.
Post-bait monitoring of non-target species is scheduled to be carried out in April.  Equipment will then be prepared for storage and the eradication team will depart.
Click here to access the operational plan and previous newsletters for this eradication exercise.
News from http://www.sght.org/sites/default/files/HR%20Newsletter%20mid-March%202011.pdf.
John Cooper, ACAP Information Officer, 23 March 2011, updated 27 March 2011
*A dispute exists between the Governments of Argentina and the United Kingdom of Great Britain and Northern Ireland concerning sovereignty over the Falkland Islands (Islas Malvinas), South Georgia and the South Sandwich Islands (Islas Georgias del Sur y Islas Sandwich del Sur) and the surrounding maritime areas.