LATEST INFORMATION  AND PHOTOGRAPHS
**16 March:  For more information and photographs on the effects of the tsunami on the albatrosses of Midway Atoll click here and visit Pete Leary's blog Pete at Midway.
**18 March:  Visit http://www.flickr.com/photos/usfwspacific/sets/72157626163915401/ to see post-tsunami photographs of Laysan Island posted by David Patte (USFWS).  "The entire coast experienced wash over, with the north, west and east shores experiencing 100% of coast washed over to/into vegetation line or beyond. (The south shore is estimated at 50% wash over.)" 
****************
Whereas Hawaii and the rest of the Pacific were spared the loss of human life and large-scale damage that have so tragically occurred in Japan from last week's earthquake and tsunami, it appears that Hawaii's nesting albatrosses have not been so lucky.
In contrast to the 'high islands' where Japan's Short-tailed Albatrosses Phoebastria albatrusbreed, which are relatively safe from tsunamis, in the Northwestern Hawaiian Islands virtually all Laysan and Black-footed Albatrosses breed less than 10 m above sea level.  These islands, in particular Midway Atoll and Laysan Island (which together host 94% of the World's population of Laysan Albatrosses P. immutabilis and 64% of the World's population of Black-footed Albatrosses P. nigripes), were the hardest hit with up to 75% of the area of several islands reportedly washed over by waves.
Midway Atoll reported approximately four waves, the largest about 2 m in height.  About a quarter of the runway on Sand Island was washed over with sand and rocks and flooding occurred that was reported as much worse than from storms earlier this year (click here).   Estimates are that Eastern and Sand Islands were 60% and 20% washed over, respectively and that minima of 1000 adult/subadult and tens of thousands of Laysan Albatross chicks were lost.  Spit Island was completely washed over.
 On Midway's Eastern Island (where the Short-tailed Albatross nest is, click here) the chick has survived, although once more it had to found (this time 35 m away) and carried back to its nest cup.  It also seems that Wisdom, the 60-year female Laysan and her chick on Sand Island (click here) made it through the tsunami.
On Laysan Island, waves washed out much of the camp on the island and came to within 15 m of the hurricane shelter.  Some of the personnel on that island are in the process of being evacuated due to the loss of the camp.  It is as yet unknown exactly what the extent of damage is to the island's albatross colonies (as well as to the endemic land birds), but it is likely to be extensive.
Kure Atoll also reported four waves, starting after midnight that washed approximately 100 m inland causing extensive damage to the pier and mass seabird mortality.  Although other islands have yet to assess the losses to seabirds, the camp manager on Kure Atoll reports that entire portions of the Black-footed Albatross colony (which typically breed on the perimeter of these islands) have been washed away and that there are dead chicks everywhere.  Mitigating news from Kure is that the female-female Short-tailed Albatross pair (click here) was seen alive the next morning.
Albatross colonies on Tern Island, Lehua, Kauai and Oahu (including the new predator-proof fenceat Ka'ena Point) all survived without any reported damage as did the STAL translocation colony  on Japan's Mukojima Island which is high up enough not to have been affected by the 1-8 m wave reported for the Ogasawara Islands.
Although acccurate estimates are not yet available, based on the descriptions provided and the numbers of albatross nests on these islands, losses are likely to be in the tens of thousands, if not more.  However, for both Laysans and Black-foots it is currently the post-guard period in the breeding cycle which means that many of the breeding adults would have been out at sea provisioning for their chicks when the tsunami hit, so with any luck the majority of the mortality will be of chicks and not of breeding adults.  Against this the fact that the tsunami hit the Northwestern Hawaiian Islands at night may have added to the mortality of adults.
Nonetheless, this is potentially a huge loss for the Laysan and Black-footed Albatrosses' global populations and further underscores the role that rising sea-levels will play in the future conservation of these birds.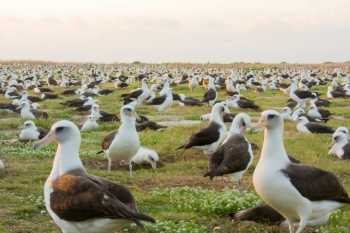 With thanks to Beth Flint, John Klavitter and Pete Leary (US Fish & Wildlife Service) for providing accounts from Midway, Laysan and Tern, Cynthia Vanderlip for providing accounts from Kure, and Tomohiro Deguchi (Yamashina Institute for Ornithology) for information from Mukojima.
Lindsay Young, ACAP North Pacific News Correspondent, 14 March 2011, updated 16 & 18 March 2011