"Wisdom" is the name given to a Laysan Albatross Phoebastria immutabilis banded as a breeding adult while it was incubating an egg on USA's Midway Atoll National Wildlife Refuge by Chandler Robbins of the Patuxent Wildlife Research Center in December 1956.  Robbins estimated that the bird was a minimum of five years old at the time.
Wisdom (or Z333 by her red colour band) has been recently spotted brooding a chick at an estimated 60 years of age (click here for the full story).  See also http://www.usgs.gov/newsroom/article.asp?ID=2722.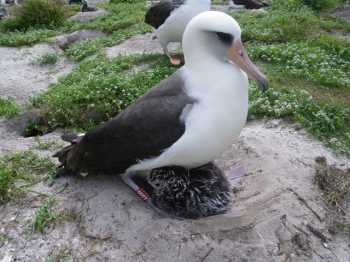 The bird was also observed breeding on Midway in 2006, 2008, 2009, and 2010.  Click here for a previous ACAP news item on Wisdom's 2010 breeding attempt.
Wisdom has now reached the age of the fabled "Grandma", a banded Northern Royal Albatross Diomedea sanfordi which bred for many years at Taiaroa Head on the Otago Peninsula of South Island, New Zealand (click here for information on the DVD on her life).  She reached a banded age of 51.5 years and an actual age of at least 60 years, regularly raising chicks until the year she disappeared.
The ACAP Information Officer is now waiting to hear of a 64-year-old albatross hatched in 1947, as he would like to meet it to exchange life stories.
With thanks to Rob Ronconi for information
John Cooper, ACAP Information Officer, 10 March 2011, updated 13 March 2011