The latest edition (actually the fifth, although labelled No. 4) of the newsletter of the South Georgia* Habitat Restoration Project reports that the aerial broadcasting of poison baits to rid the South Atlantic island of introduced Norway or Brown Rats Rattus norvegicus commenced on 1 March.
Operating out of King Edward Point and Grytviken on the island's eastern coast the first load of poison bait was dropped on the Greene Peninsula and is planned to be the first of many hundreds over the next five years over a total area of 80 000 ha.  During the rest of Phase One of the project in 2011 bait will also be dropped on the Thatcher Peninsula, Mercer Bay and Saddle Island.  Fund-raising for Phase Two is now underway.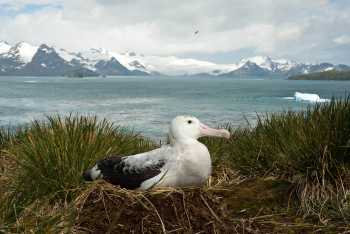 Click here to access the project's web site and to read the earlier four editions of its newsletter.  Up-to-date information on the 2011 campaign can also be found on Facebook.
To read about another ongoing eradication effort on a Southern Ocean island, visit the Macquarie Island Pest Eradication Project.
John Cooper, ACAP Information Officer, 3 March 2011
*A dispute exists between the Governments of Argentina and the United Kingdom of Great Britain and Northern Ireland concerning sovereignty over the Falkland Islands (Islas Malvinas), South Georgia and the South Sandwich Islands (Islas Georgias del Sur y Islas Sandwich del Sur) and the surrounding maritime areas.