New Zealand's Department of Conservation announced last month that the linked islands of Motutapu and Rangitoto in the Hauraki Gulf near Auckland are now considered clear of nine alien mammal species, including the House Mouse Mus musculus, following a protracted campaig
n (click here).
With a combined area of 3800 ha, the two islands are now the single largest locality from which mice have been successfully eradicated.  Previously the record was held by New Zealand's Enderby Island of only 700 ha in the Auckland Island Group.
With the possibility that mice have been eradicated this year on Australia's 12 800-ha Macquarie Island (click here), the way seems to be opening for an attempt on the mice on 6 800-ha Gough Island in the South Atlantic.
A successful eradication on Gough will do much to help save the Critically Endangered Tristan Albatross Diomedea dabbenena, whose chicks the mice attack and kill during winter, as regularly reported on this web site.  Click here to access the feasibility study for the eradication of Gough's mice.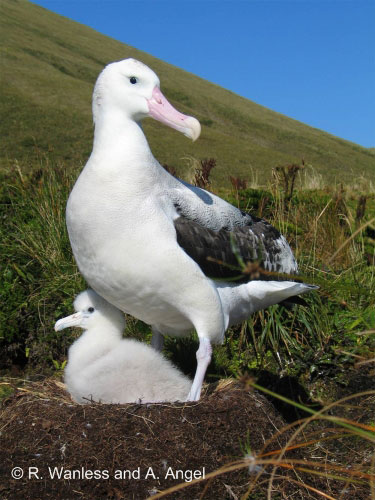 Tristan Albatross and chick on Gough Island
Photograph by Andrea Angel/Ross Wanless

John Cooper, ACAP Information Officer, 26 September 2011