Salvin's Albatross Thalassarche salvini is a Vulnerable species endemic to New Zealand, breeding only on the Bounty Islands and the Western Chain of The Snares, although two occupied nests were reported from The Pyramid in the Chatham Islands in 1995.  The population status of this species is poorly known, but was estimated to be approximately 32 000 pairs in 1998, with 96% of the population concentrated on the Bounty Islands.
In October 2010 Latitude 42 Environmental Consultants undertook a photographic aerial survey of the Bounty Islands on behalf of the New Zealand Ministry of Fisheries.  From photographs taken a count of Salvin's Albatrosses realized 41 101 (95% CI 40 696 - 41 506) annually breeding pairs, representing the first complete population survey of the species in the island group.
Previous attempts to estimate the size of the Salvin's Albatross population at the Bounty Islands have relied on using density estimates from one island and extrapolating to all known occupied islands in the island group.  Because past methods used differ from those used in the 2010 aerial survey, it is not considered appropriate to draw conclusions about population changes.  Instead, it is recommended that analysis of population trends be based on future aerial surveys of all breeding sites in the Bounty Islands, using the 2010 aerial survey as a baseline.
Click here to access the ACAP Species Assessment for Salvin's Albatross.
With thanks to Barry Baker, Latitude 42 Environmental Consultants for information.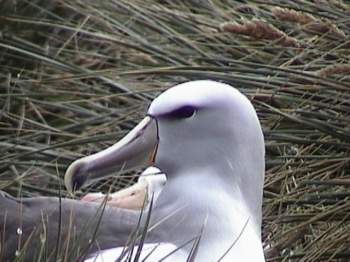 John Cooper, ACAP Information Officer, 9 August 2011