The papers and abstracts published in this proceedings volume are the outcome of an international conference on Island Invasives: Eradication and Management held at Tamaki Campus, University of Auckland, New Zealand from 8 to 12 February 2010.
The conference was hosted by the Centre for Biodiversity and Biosecurity (University of Auckland and Landcare Research), in collaboration with the IUCN/SSC Invasive Species Specialist Group.  It was attended by 240 delegates from at least 20 countries.
The following 10 peer-reviewed papers (out of 95 published) and three abstracts have been selected as covering invasive species management issues on islands where ACAP-listed albatrosses and petrels or threatened shearwaters breed.  However, the other papers in the proceedings volume should also be looked at for techniques to apply or test, or simply to read good news in a field that always needs it (click here for the full table of contents and to access PDFs of the papers).
******************
Review of feral cat eradications on islands.  K.J. Campbell, G. Harper, D. Algar, C.C. Hanson, B.S. Keit & S. Robinson
Preparations for the eradication of mice from Gough Island: results of bait acceptance trials above ground and around cave systems.  R.J. Cuthbert, P. Visser, H. Louw, K. Rexer-Huber, G. Parker & P.G. Ryan
The Global Islands Invasive Vertebrate Eradication Database: a tool to improve and facilitate restoration of island ecosystems.  B. Keitt, K. Campbell, A. Saunders, M. Clout, Y. Wang, R. Heinz, K. Newton & B. Tershy
Campbell Island - pushing the boundaries of rat eradications.  P.J. McClelland
Planning processes for eradication of multiple pest species on Macquarie Island - an Australian case study.  K. Springer
Introduced mammal eradications in the Falkland Islands and South Georgia*.  S. Poncet, L. Poncet, D. Poncet, D. Christie, C. Dockrill & D. Brown
The Rakiura Tītī Islands Restoration Project: community action to eradicate Rattus rattus and Rattus exulans for ecological restoration and cultural wellbeing.  P.J. McClelland, R. Coote, M. Trow, P. Hutchins, H.M. Nevins, J. Adams, J. Newman & H. Moller
Running the gauntlet: advocating rat and feral cat eradication on an inhabited island - Great Barrier Island, New Zealand.  J. Ogden & J. Gilbert
Developing a Regional Invasive Species Strategy for the United Kingdom's Overseas Territories in the South Atlantic.  C. Stringer, C. Shine, A. Darlow & B. Summers
Involving the community in rodent eradication on Tristan da Cunha.  K. Varnham, T. Glass & C. Stringer
Improving "internal" biosecurity in the Falkland Islands*: a pragmatic approach (abstract).  C. Stringer, B. Summers, D. Christie, D. Brown, H. Otley & N. Rendell
Damage to plants and seabirds by ship rats Rattus rattus on the Ogasawara (Bonin) Islands before eradication (abstract).  T. Yabe, T. Hashimoto, M. Takiguchi, M. Aoki, M. Fujita & K. Kawakami
Lessons learned from gaining political and community support of Hawai`i's first predator-proof fence at Ka`ena Point Natural Area Reserve (abstract).  L.C. Young, P. Sato, A. Jeffers-Fabro, C. Swenson, R. Kennedy & D.G. Smith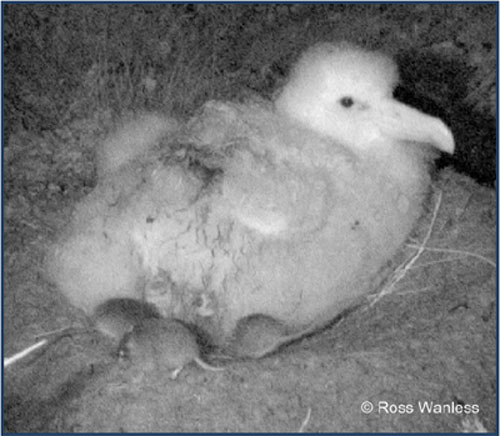 Tristan Albatross chick being attacked by House Mice at night on Gough Island
(see Cuthbert et al. listed above)
Photograph by Ross Wanless
Reference:
Veitch, C.R.; Clout, M.N. & Towns, D.R. (Eds) 2011.  Island Invasives: Eradication and Management. Proceedings of the International Conference on Island Invasives.  Gland: World Conservation Union (IUCN) & Auckland: Centre for Biodiversity and Biosecurity.  xii + 542 pp.
Click here to find out how to purchase the proceedings.
John Cooper, ACAP Information Officer, 15 December 2011
*A dispute exists between the Governments of Argentina and the United Kingdom of Great Britain and Northern Ireland concerning sovereignty over the Falkland Islands (Islas Malvinas), South Georgia and the South Sandwich Islands (Islas Georgias del Sur y Islas Sandwich del Sur) and the surrounding maritime areas.