Thirty-hectare Grass Island lies within Stromness Bay, approximately 350 m from the nearest rat-infested mainland area at Tonsberg Point, South Georgia (Islas Georgias del Sur)* in the South Atlantic.  The island is ice-free and entirely vegetated.  The island's lower slopes are covered in tussac grass Poa flabellata with areas of Festuca contracta grassland on the summit above the 80-m high north coast cliffs.
Grass Island was first confirmed as being free of Norway or Brown Rats Rattus norvegicus in 2002, after a baiting operation carried out in November 2000 (Poncet et al. 2011).  This was the first attempt at rat eradication at South Georgia (Islas Georgias del Sur)* and paved the way for the current restoration plans (click here) for the whole of that island.  No evidence of rats or rat sign was found on Grass Island  in 2002 (chewsticks deployed for 12 months untouched and no droppings, burrows, chewed tussac or rat runs seen).  Further visits from 2003 to 2006 also revealed no signs of rats.  During a December 2005 visit several new White-chinned Petrel Procellaria aequinoctialis burrows were found in areas where none had previously been recorded.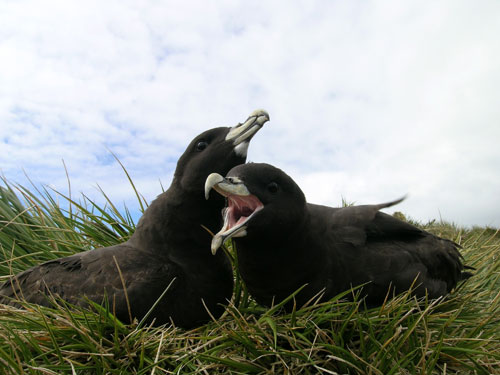 A White-chinned Petrel pair display at their breeding site
Photograph by Bean Phalan
The risk of rats re-invading Grass Island by swimming from Tonsberg Point was recognized when the island was baited.  With 11 years now elapsed since baiting, a visit on 28 November 2011 has provided the opportunity to check for a possible re-invasion.  Continuous rain and sleet hindered the survey, and the field team was not able to cover the entire island, but approximately one kilometre of the 2.8 km of coastline was surveyed and some of the island's interior was visited.  No rat sign (either old or fresh) was found.  The presence of several pairs of South Georgia Pipits Anthus antarcticus, thought to be breeding, is also strongly indicative of the absence of rats.
White-chinned Petrels occupied burrows at all localities recorded in 2000, as well as at the new site.  Several pairs of Light-mantled Sooty Albatrosses Phoebetria palpebrata also breed on Grass Island, as do Northern Macronectes halli and Southern M. giganteus Giant Petrels, with 51 and four breeding pairs present in December 2005, respectively.
Reference:
Poncet, S., Poncet, L., Poncet, D., Christie, C., Dockrill, C. & Brown, D. 2011.  Introduced mammal eradications in the Falkland Islands and South Georgia.*  In: Veitch, C.R., Clout, M.N. & Towns, D.R. (Eds).  Island Invasives: Eradication and Management.  Gland: World Conservation Union & Auckland: Centre for Biodiversity and Biosecurity.  pp. 332-336.
http://www.issg.org/pdf/publications/Island_Invasives/pdfwebview/3Poncet.pdf
With thanks to Sally Poncet for supplying her detailed report of her Grass Island visit last month, of which the above is an edited version.
John Cooper, ACAP Information Officer, 8 December 2011, updated 15 December 2011
*A dispute exists between the Governments of Argentina and the United Kingdom of Great Britain and Northern Ireland concerning sovereignty over the Falkland Islands (Islas Malvinas), South Georgia and the South Sandwich Islands (Islas Georgias del Sur y Islas Sandwich del Sur) and the surrounding maritime areas.