The 22nd Regular Meeting of the International Commission for the Conservation of Atlantic Tunas (ICCAT) concluded on 19 November in Istanbul, Turkey (click here for the press release).
A key outcome from the meeting towards the improved conservation of albatrosses and petrels was the adoption of a Supplemental Recommendation to reduce the incidental bycatch of seabirds in ICCAT longline fisheries.
The recommendation, which was successfully proposed by the European Union, Brazil, Uruguay, South Africa and the United Kingdom, requires the mandatory use of at least two of three bycatch mitigation measures, either deploying a bird-scaring (Tori) line, line weighting or night setting, south of 25° South in the Atlantic Ocean.   ICCAT's existing Recommendation by ICCAT on Reducing Incidental By-Catch of Seabirds in Longline Fisheries (07-07) will continue to apply in the area between 20° to 25°S.  This earlier recommendation requires the use of a bird-scaring line only, so the change is considered a step towards best practice.
The Supplemental Recommendation also provides for a fisheries impact assessment to be undertaken in 2015 to evaluate the efficacy of these mitigation measures in reducing seabird bycatch.
The implementation of this recommendation by ICCAT will significantly increase the level of protection offered to seabirds in the South Atlantic, and in particular to the Vulnerable Wandering Diomedea exulans and Endangered Black-browed Thalassarche melanophris Albatross populations of South Georgia (Islas Georgias del Sur)* and the Critically Endangered Tristan Albatrosses D. dabbenena of Gough and Inaccessible Islands in the Tristan da Cunha group. These three populations were identified as priority ones for conservation at the recent ACAP's Sixth Advisory Committee meeting, held in Guayaquil, Ecuador (click here for its final report).  See also http://www.acap.aq/latest-news/four-species-of-albatrosses-are-at-risk-to-tuna-fisheries-in-the-atlantic-ocean.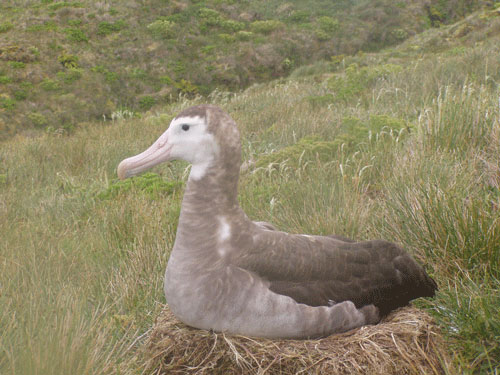 The Commission also included in its 2012-13 budget funds for the recruitment of a by-catch coordinator in the ICCAT Secretariat.
ACAP was represented at the ICCAT meeting in Turkey by its Executive Secretary, Warren Papworth.
References:
ICCAT 2011.  Supplemental Recommendation by ICCAT on Reducing Incidental Bycatch of Seabirds in ICCAT Longline Fisheries.  Doc. No. PA4-813A / 2011.  5 pp.
Tuck, G.N., Phillips, R.A., Small, C., Thomson, R.B., Klaer, N.L., Taylor, F., Wanless, R.M. & Arrizabalaga, H. 2011.  An assessment of seabird-fishery interactions in the Atlantic Ocean.  ICES Journal of Marine Science 68: 1628-1637.
John Cooper, ACAP Information Officer, 24 November 2011
*A dispute exists between the Governments of Argentina and the United Kingdom of Great Britain and Northern Ireland concerning sovereignty over the Falkland Islands (Islas Malvinas), South Georgia and the South Sandwich Islands (Islas Georgias del Sur y Islas Sandwich del Sur) and the surrounding maritime areas.