Cédric Cotté (Centre d'Études Biologiques de Chizé, France) and colleagues have included an extended abstract in a newly published book entitled The Kerguelen Plateau: Marine Ecosystem and Fisheries, which is an outcome of a symposium of the same name held in Concarneau, France in 2010.
The abstract considers interactions between Wandering Diomedea exulans and Black-browed Thalassarche melanophris Albatrosses and White-chinned Procellaria aequinoctialis and Grey P. cinerea Petrels and fisheries on the Kerguelen Plateau in the southern Indian Ocean and concludes that:
"[t]he dynamic analysis of seabird and vessel locations shows strong co-occurrence of both wandering (breeding and immature) and black-browed albatrosses.  They spent a substantial amount of time associated with vessels (7-25% of location with vessels relative to total number of locations during the trip in the Kerguelen EEZ).  This supports the hypothesis that foraging activity of albatrosses is highly linked to fishery activities. Moreover, an increase in the proportion of locations associated with vessels is exhibited for breeding wandering albatross (since 1994) and for black-browed albatross (since 2004).  These results have strong implications in terms of seabirds [sic] conservation and ecosystem management.  As a practical application, long-term inter-annual tracking of albatrosses will allow the identification of important marine bird areas as important viable zones for naturally occurring bird populations."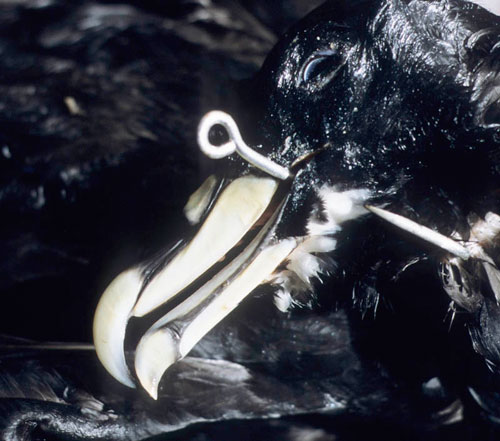 White-chinned Petrel hooked by a longliner
Photograph by Nicolas Gasco
---
Reference:
Cotté, C., Delord, K, Péron, C., Bost, C.-A., Duhamel, G., Pruvost, P., Gasco, N., Martin, A. & Weimerskirch, H. 2011.  Interactions between seabirds and fisheries in the French EEZs: implications for conservation and management. In: Duhamel, G. & Welsford, D. (Eds).  The Kerguelen Plateau: Marine Ecosystem and Fisheries.  Paris: Société Française d'Ichtyologie.  pp. 291-292.
For another paper of relevance to ACAP-listed species in the same book click here.
With thanks to Karine Delord.
John Cooper, ACAP Information Officer, 3 November 2011