From the meeting's web site:
 Call for Abstracts
Thirty-Eighth Annual Meeting, Pacific Seabird Group, 7-10 February 2012, Makaha, Hawaii, USA
Meeting Theme: Tropical Seabirds
Abstract submission deadline 4 November 2011
We invite you to submit an abstract for an oral or poster presentation on seabird biology, foraging ecology, energetics, physiology, population biology, systematics, genetics, conservation biology, fishery interactions, restoration ecology or any other topic relevant to seabirds.
All abstracts must be received no later than 4 November, 2011.  You will be notified regarding acceptance of your paper.  Abstracts received after the deadline may not be included.
Click here for more information on the meeting.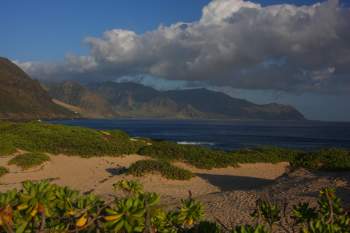 Kaena Point: breeding site of Laysan Albatrosses
Photograph by Lindsay Young
John Cooper, ACAP Information Officer, 28 October 2011