It seems the long-awaited Seabird Action Plan for the European Union is to be in place soon.
Lowri Evans, Director-General of the European Commission's Directorate-General for Maritime Affairs and Fisheries (DG Mare) announced at an exhibition of albatross photographs arranged by BirdLife Europe last week and held at the European Parliament that that the Commission is planning to adopt a Seabird Action Plan to reduce the incidental bycatch of seabirds by the end of the year.  The European Union Action Plan (NPOA-Seabirds) will contain monitoring and mitigation measures to reduce seabird bycatch in both European and international waters.
At the exhibition the Director-General noted the need for a wider approach to fisheries management in terms of the EU's Common Fisheries Policy (CFP), encompassing all elements of the ecosystem including seabirds.  The CFP is currently in the process of being reformed (click here).  She called upon Members of the European Parliament, Member States, NGOs, the fishing industry and civil society to help bring about this change.
It is considered that the adoption of a NPOA-Seabirds for the EU will help conserve such seabird species as the Critically Endangered Balearic Shearwater Puffinus mauretanicus, endemic to the Spanish Mediterranean, and which is expected to become an ACAP-listed species next year (click here).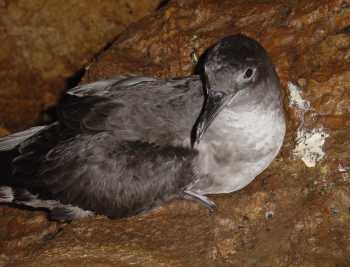 Balearic Shearwater
Photograph by Daniel Oro
Click here for an earlier item in ACAP Latest News on progress towards an EU NPOA-Seabirds.
John Cooper, ACAP Information Officer, 25 October 2011