Teodoro Vaske Júnior (Laboratório de Elasmobrânquios, Universidade Estadual Paulista, São Vicente, Brazil) writing on-line earlier this year in the open-access journal Biota Neotropica concludes that the squid portion of the diet of at least 13 species of albatrosses is enhanced anthropogenically by tuna fisheries, concluding:
"As a conclusive remark, it is suggested that cephalopods acquired more importance as a food item of seabirds since the beginning of longliners operations, especially concerned with deep water species that are incorrectly reported as a natural prey item of seabirds, mainly albatrosses."
The paper's abstract follows:
"An analysis of published data on oceanic seabirds diets, show the predominance of muscular cephalopods with superficial distribution in the oceanic layers, but also important are the gelatinous and ammoniacal species restrict to layers below 300 m from the surface. In principle, it could be not expected that deep-sea cephalopods are common prey for seabirds like several authors have been concluded. It is proposed in this study that an indirect source, important and easily attainable, have been appeared with the beginning of tuna longline operations. The habit to feed upon viscera of the fishes captured by tuna longliners, that discard the gut contents to the water, may explain the probable equivocal conclusions that deep dwelling cephalopods are natural prey of oceanic seabirds."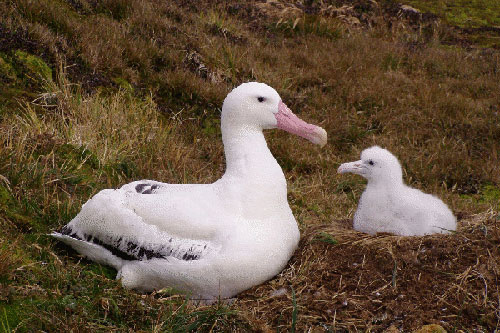 Wandering Albatross on Marion Island: is its squid diet enhanced by longliners?
Photograph by John Cooper
Reference:
Vaske Júnior, T. 2011.  Are deep-sea cephalopods really common preys for oceanic seabirds?  Biota Neotropica 11: 177-180.
John Cooper, ACAP Information Officer, 24 October 2011