The final report of the joint Breeding Sites Working Group and Status & Trends Working Group meeting (AC6 Doc 11 Rev 4), held in Guayaquil, Ecuador in August this year (click here),  is now available on this website at http://www.acap.aq/english/english/advisory-committee/ac6/ac6-meeting-documents.
At the Sixth ACAP Advisory Committee meeting that followed directly afterwards it was agreed that the two working groups will be combined into a single body, to be known as the Population and Conservation Status Working Group (PaCSWG).
Terms of Reference for the new working group were adopted at the Advisory Committee meeting. Drs Rosemary Gales (Australia) and Richard Phillips (United Kingdom) were appointed Co-convenors of the new working group and Drs Flavio Quintana (Argentina) and Henri Weimerskirch (France) were appointed as Vice Co-convenors.
The new group is due to hold its first meeting in 2013.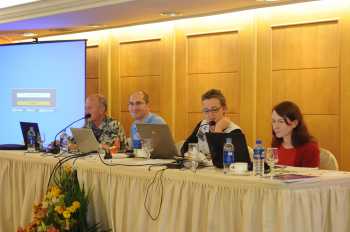 Henri Weimerskirch, Richard Phillips, Rosemary Gales and Wieslawa Misiak
at the joint meeting in Ecuador
John Cooper, ACAP Information Officer, 17 October 2011