The prize-winning entries for the WWF 2011 International Smart Gear Competition were announced at the Pacific Marine Expo in Seattle, Washington, USA on 17 November this year.  Winning both the Grand Prize (US$ 30 000) and this year's Special Tuna Prize (US$ 7500) from the International Seafood Sustainability Foundation (a coalition of tuna processors, leading scientists and WWF) was an entry from Captain Kazuhiro Yamazaki, Fishing Master of the tuna longline vessel Fukuseki Maru No 5.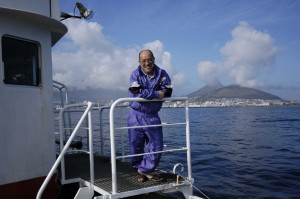 Captain Kazuhiro Yamazaki
Photograph by Ed Melvin
His design is called the 'Yamazaki Double-Weight Branchline' and works by increasing the sinking rate of pelagic longlines, making it more difficult for seabirds to get caught on the baited hooks.  It also reduces injuries and fatalities to fishing crew caused by rapidly recoiling weights and hooks.  Used in conjunction with bird-scaring (Tori) lines and night setting it can reduce seabird mortality during pelagic longlining by 89%, based on research conducted in the South African tuna joint venture fishery.
"The Yamazaki Double-Weight Branchline is an innovation that meshes practicality and safety with function and conservation and breaks down the barriers to the adoption of branchline weighting as a seabird bycatch mitigation measures in world tuna commissions (RFMOs) and in domestic fisheries."
Yamazaki-san was at sea fishing in the Indian Ocean at the time of the Expo and so was unavailable to accept his awards in person.  However, Mr. Tokuichi Nishikawa, Chairman of Fukusekimaru Fisheries, accepted the award on his behalf from Dr John Stein, Acting Science Director of the Northwest Science Center, NOAA Fisheries Service in Seattle.  Mr Yoshida of the Federation of Japan Tuna Fisheries Cooperative Associations (Japan Tuna) translated Nishikawa-san's acceptance speech.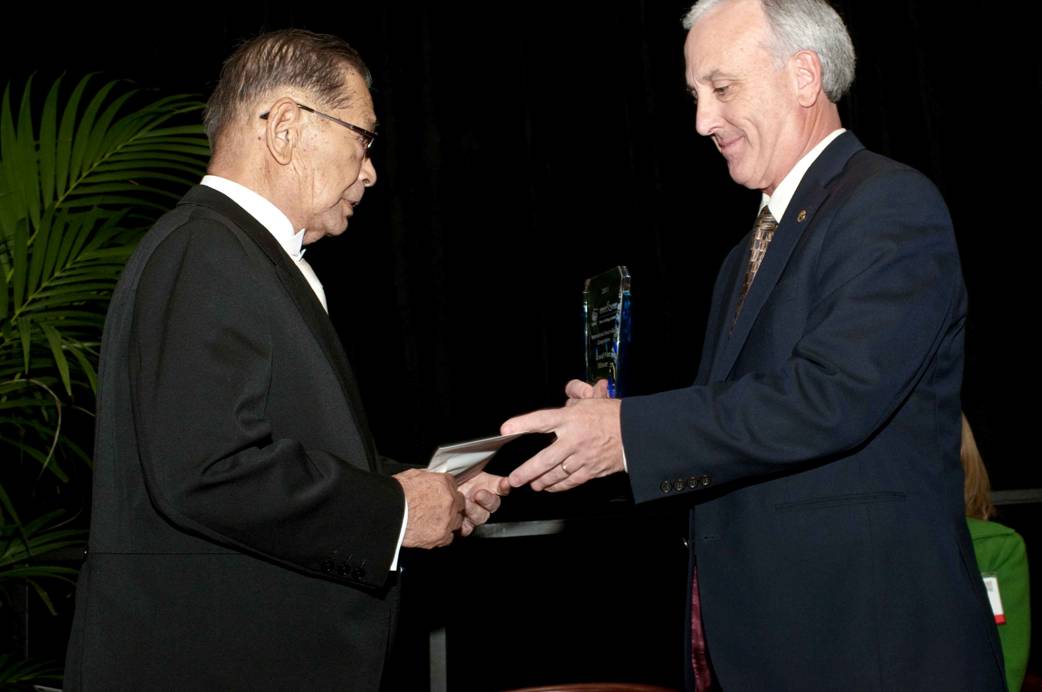 Mr. Tokuichi Nishikawa accepts the award from Dr John Stein
Photograph by Scott Matsuda
Click here to read a detailed description and view an illustration of the Double-Weight Branchline.
Previous winners (click here) of the WWF Smart Gear Competition since 2005, currently held at two-year intervals, include Graham Robertson (Australia) in 2009 for the Underwater Baited Hook, Diego Gonzalez Zevallos (Argentina) in 2007 for the use of traffic cones on trawler warp cables to increase visibility to birds and Chris Carey (New Zealand) in 2006 for his Flying Bottlebrush, also designed to deter birds from warp cables.
With thanks to Ed Melvin and Mike Osmond for information.
John Cooper, ACAP Information Officer, 23 November 2011, updated 29 November 2011