Following the visit of Red Y01, the first Short-tailed Albatross Phoebastria albatrus to return to Japan's Mukojima Island after translocation as a chick from Torishima Island in 2008 (click here), a second translocated bird has now visited the artificial colony, where it was photographed by Tomohiro Deguchi on 24 February.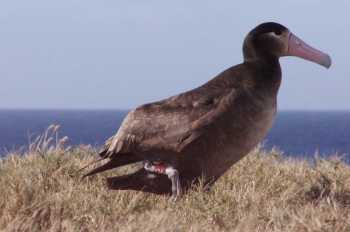 Red Y04, identified after translocation as a male from a blood sample to assess its physiological condition, was photographed ashore on Mukojima interacting with the 2011 translocated chicks.  One of these newly translocated chicks exhibited begging behaviour to Y04.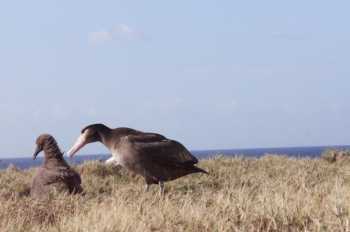 Like Red Y01, this new bird is also from the original 2008 cohort of 10 chicks moved between the two islands.
Adding to the story is that Red Y04 has been reported previously by Fumio Sato as visiting Torishima, spending the period 8-14 and 22 February ashore in the recently-established Hatsune-zaki colony.  Time will tell on which island, and in which colony it eventually settles down to breed, although it is the hope it will be on Mukojima.
The translocation project is a cooperative one involving the Yamashina Institute for Ornithology in Japan, the Japanese Ministry of Environment and the U.S. Fish and Wildlife Service.
With thanks to Tomohiro Deguchi for information.
John Cooper, ACAP Information Officer, 27 February 2011