Two significant events have taken place on Japan's Mukojima Island in the Ogasawara (Bonin) Islands this month where attempts are being made to start a new breeding colony of Short-tailed Albatrosses Phoebastria albatrus by translocating chicks from Toroshima.
On 8 February 15 chicks were moved to Mukojima and established on their artificial nests.  This is the fourth year such a translocation has taken place, bringing the total number of chicks moved to 55.  The chicks are fed by hand at their nest sites until they fledge.
The translocations began in 2008, as a cooperative project involving the Yamashina Institute for Ornithology in Japan, the Japanese Ministry of Environment and the U.S. Fish and Wildlife Service.
Even more exciting is that the first fledged bird (Red Y01, from the original 2008 cohort), thought to be a male, returned on 10 February to the translocation colony where it has been seen and photographed interacting with the 2011 chicks and with the decoy models.  The bird fledged on 20 May 2008, so it has returned in less than three years to Mukojima.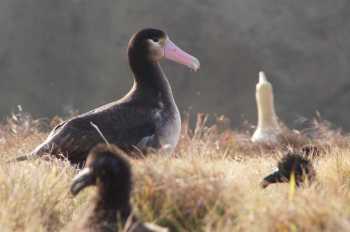 With this development (and the successful hatching of a STAL egg on the USA's Midway Island, the first ever; click here for story) the future for this once abundant but now rare North Pacific albatross seems a lot brighter.
Click here to access previous ACAP stories on the translocation project.  See also http://sciencelinks.jp/content/view/715/241/.
With thanks to Tomohiro Deguchi and Ozaki Kiyoaki for information.
John Cooper, ACAP Information Officer, 12 February 2011