On Friday 24 June the World Heritage Committee  meeting in its 35th Session in Paris, France inscribed the Ogasawara Islands, Japanese islands situated some 1000 km south of the country's main archipelago, on UNESCO's World Heritage List for the wealth of their ecosystems which reflect a wide range of evolutionary processes.
The property numbers more than 30 islands clustered in three groups and covers a surface area of 7393 ha. The islands offer a variety of landscapes and are home to a wealth of fauna, including the Bonin Flying Fox Pteropus pselaphon, a Critically Endangered bat and 195 endangered bird species. Four-hundred and forty-one native plant taxa have been documented on the islands whose waters support numerous species of fish, cetaceans and corals. The Ogasawara Islands' ecosystems reflect a range of evolutionary processes illustrated through its assemblage of plant species from both south-east and north-west Asia, alongside many endemic species, as well as the translocation colony of Short-tailed Albatrosses Diomedea albatrus on Mukojima Island.
 News from http://whc.unesco.org/en/news/766.
See also:
http://www.asahi.com/english/TKY201106250159.html and http://www.yomiuri.co.jp/dy/national/T110625002772.htm.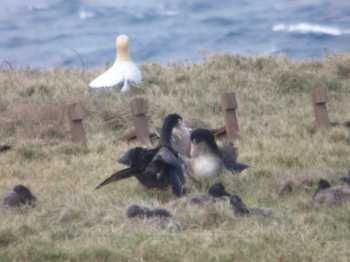 ***************
This and next week the 35th Session of the Committee of the World Heritage Convention (WHC) is being held in Paris, France.  Among the new Natural Sites that will be considered for inscription are Japan's Ogasawara Islands.  The Ogasawara Islands consist of a chain of about 30 islands stretching over some 400 km.  The World Conservation Union (IUCN) acts as an advisory body on natural sites and will present its expert recommendations on the island group to the Committee (click here).
The Ogasawaras include Mukojima Island where efforts are being made to establish a new breeding colony of Short-tailed Albatrosses Phoebastria albatrus by translocating and hand-rearing to fledging chicks taken each year from Torishima (click here).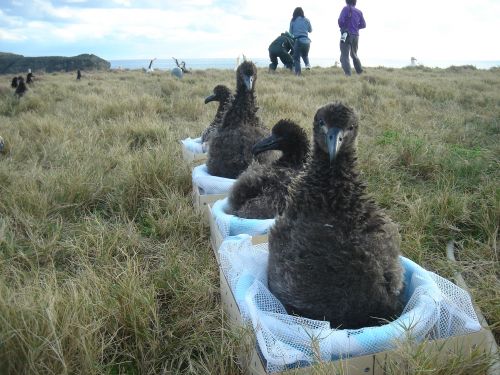 "The IUCN investigation found the Ogasawaras to be a kind of "Galapagos of the Orient" with high value points for evolution of endemic species.  Endemics included 36% among plants, 27% among insects, and 94% of terrestrial snails.  Those species that were also found in other locations showed abundance of genetic diversity influenced by the peculiar local environment of the Ogasawaras.  Another subject addressed was counter-measures against ecological degradation caused by introduced species.  While praising results of strong cooperation among government, the resident population and scientists, IUCN said that in the future intensified efforts against introduced species would be required.  They urged studies for expanding actions against adverse influence on the marine environment due to increased tourism."  [translated from the Mainichi Shinbun of 7 May 2011].
If inscribed as a natural site Mukojima Island will join several other albatross breeding sites in the North Pacific that are included within the USA's Papahānaumokuākea Marine National Monument which was inscribed on the World Heritage List as a mixed natural and cultural site last year.  This huge marine reserve includes Midway Atoll National Wildlife Refuge, home for many thousands of breeding Laysan P. immutabilis and Black-footed P. nigripes Albatrosses (and currently also one breeding pair of Short-tailed Albatrosses - click here)
Click here to access Japan's nomination text for the Ogaswara Islands to the World Heritage Convention and also to access management and conservation plans for the island group.
At its 2011 meeting the World Heritage Committee inscribed a total of 25 sites on UNESCO's World Heritage List, including three natural properties, 21 cultural and one mixed site. Two properties were added to the World Heritage List in Danger and one was removed from that list. The World Heritage List now numbers 936 properties: 183 natural sites; 725 cultural; and 28 mixed (click here).
With thanks to Kiyoaki Ozaki, Division of Avian Conservation (Bird Migration Research Center), Yamashina Institute for Ornithology, Japan for information and to Chuck Pell for the translation.
John Cooper, ACAP Information Officer, 21 June 2011, updated 01 July 2011