The following report comes from John Klavitter, Acting  Reserve Manager, Midway Atoll National Wildlife Refuge in the Northwestern Hawaiian Islands.
"In the morning of December 1, 2010, U.S. Fish & Wildlife Service (USFWS) volunteers checked the Short-tailed Albatross (STAL) [Phoebastria albatrus] nest on Eastern Island, Midway Atoll that was first observed on November 16, 2010 with an adult male STAL (band 130-01819) incubating the egg.  The pair had traded off incubation duties and the female (intermediate phase plumage, 7 years old, band 3B2411) was observed incubating the egg.  This is the first sighting of the female this year, although only limited trips have been made to Eastern Island and the STAL decoy plot area.  This is very exciting and lends additional hope that the female was present on Eastern Island from approximately November 6 to 15, 2010, copulated with the male, and laid the egg.  USFWS staff and volunteers will continue to monitor the nest daily with the use of a remote video camera that has just become operational.  The camera is a collaboration between USFWS, National Oceanic and Atmospheric Administration (Andy Collins, Honolulu, HI), and SeeMore Wildlife Systems (Konrad Schaad, Homer, AK).  Real-time video can be viewed on a monitor from a location on Sand Island.  At present, footage cannot be recorded or made available on the internet, although this will be possible in the future."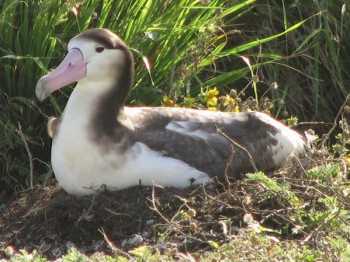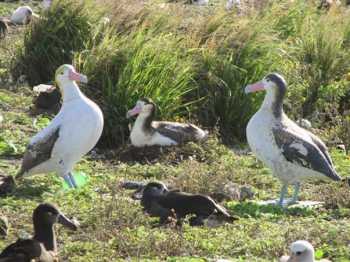 Click here for earlier news on this breeding attempt, the first known male-female STAL breeding attempt on USA soil (and to view photos of the female's partner on the nest).
Click here to follow this season's Short-tailed Albatross female-female pair on Kure Atoll.
With thanks to John Klavitter and Lindsay Young for information
John Cooper, ACAP Information Officer, 8 December 2010