On 4 July 2010 an Atlantic Yellow-nosed Albatross Thalassarche chlororhynchos was seen flying over Lake Ontario, Canada from the shore of Kingston, some 500 km from the North Atlantic Ocean by Paul Martin of Queen's University.
"I was afraid no one was going to believe me," Prof. Martin said. "It was kind of like saying there's a leprechaun in the backyard."
On 17 July, two weeks after the Kingston sighting, what must surely be the same bird, deemed to be an adult from photographs, was found in an emaciated condition (weighing only 1.5 kg) on Wolfe Island in the lake, and taken to the Sandy Pines Wildlife Centre in Napanee, near Kingston (click here).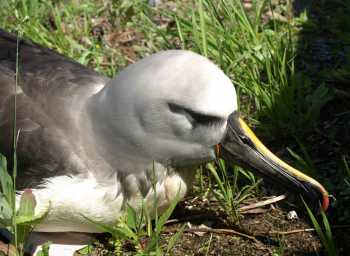 The albatross has been gaining mass at the centre on a diet of hand-fed fish and squid, and appears uninjured and disease-free, according to Director Sue Meech and careful thought is now being given to how (and where) it can be released into the wild.  Atlantic Yellow-nosed Albatrosses are breeding endemics on the Tristan da Cunha group of islands in the South Atlantic (click here to access the ACAP Species Assessment), so the Canadian bird is a long way from home.
For more information on this wayward albatross visit:
http://www.theglobeandmail.com/news/national/ontario/wanderer-from-a-distant-sea/article1647673/ and http://travel.canoe.ca/Travel/News/2010/07/21/14779901.html.
For information on vagrant albatrosses crossing the equator, including of Atlantic Yellow-nosed Albatrosses previously reaching Canadian waters, click here.
Click here for a report on the rehabilitation of a South African Wandering Albatross in Australia.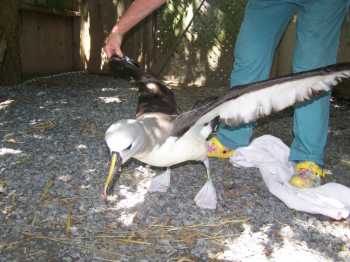 Thanks to Sue Meech, Ken Morgan and Rob Ronconi of Canada for their help.
John Cooper, ACAP Information Officer, 25 July 2010