The numbers of Vulnerable Short-tailed Albatrosses Phoebastria albatrus have increased to more than 2500 through the past 50 years of conservation efforts, but their only two remaining breeding sites, Torishima Island and the Senkaku Islands, have a high risk of volcanic eruption or are faced by political problems, respectively.
 To help the species survive a future eruption on Torishima, hand-rearing of young chicks translocated from this island to a safe and historical breeding site, Mukojima Island in the Ogasawara (Bonin) Islands, begun in 2008, as a cooperative project involving the Yamashina Institute for Ornithology in Japan, the Japanese Ministry of Environment and the U.S. Fish and Wildlife Service.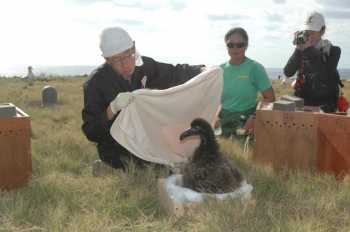 The goal of the project is that the hand-reared birds will return to Mukojima after fledging and establish a third (and safer) breeding site for the Short-tailed Albatross.  To date, 10, 15 and 15 chicks, of 30-40 days of age, have been transported from Torishima to Mukojima, 350 km to the south, by helicopter in February 2008, 2009 and 2010, respectively.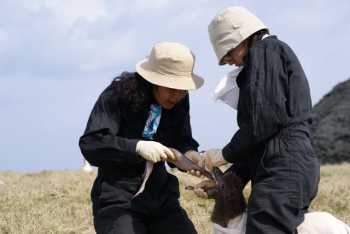 All of the 40 hand-reared Short-tailed Albatross chicks have grown well on their hand-fed diet of flying fish, sardine, squid, krill, water and vitamins without health problems and all voluntarily fledged in late May - when parent-reared chicks fledge from Torishima.  Solar-powered satellite transmitters (PTTs) attached to some of the hand-reared chicks indicate that they travel to the Aleutian Islands and Bering Sea regions one to two months after fledging, regions used heavily by adult and parent-reared fledglings from Torishima.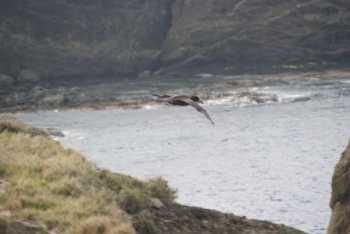 Thirty Short-tailed Albatross decoys and a solar-powered sound system making colony sounds and courtship calls have been established at the hand-rearing site on Mukojima to increase the probability of imprinting by the chicks and thus the returning juvenile birds after fledging.  Some subadult birds have already been attracted to the site.
 In 2007, 10 Endangered Black-footed Albatross P. nigripes chicks, aged 50 days, were translocated from Nakodojima Island to the hand-rearing site on Mukojima 5 km to north and hand-reared as a preliminary experiment for the Short-tailed Albatross project.  In 2010, three out of the nine chicks that successfully fledged were observed back on Mukojima for the first time, with two being observed engaged in courtship behaviour.  Their return gives hope for a similar achievement with the translocated Short-tailed Albatrosses.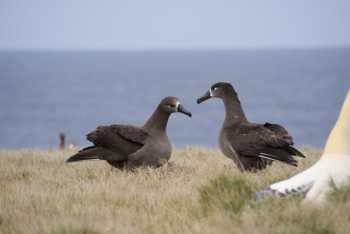 For an earlier ACAP news story on the Mukojima translocation programme click here.
 News from Tomohiro Deguchi, Yamashina Institute for Ornithology, 23 June 2010