Every year since 2004 volunteers on Hawaii's Midway Atoll National Wildlife Refuge have counted every albatross nest.  This huge task takes three weeks.  The latest count, conducted over December 2009 to January 2010, counted Laysan Albatrosses Phoebastria immutabilis for the ninth year and Black-footed Albatrosses P. nigripes for the 18th year since standardized surveys commenced in 1992.
Nests are marked with a paint splotch to avoid double counting.  All four islands that make up the atoll (Sand, Eastern and the Spits) are visited and their active nests counted.
The 2010 "hatch year" yielded totals of 428 090 Laysan and 23 722 Black-footed Albatross nests.  Laysan numbers were 7.9% higher than in 2009, but lower than the 2006 record of 487 527 nests.  Black-footed Albatrosses were down 1.0% on 2009.  The highest number counted for this species was 24 887 nests in 2007.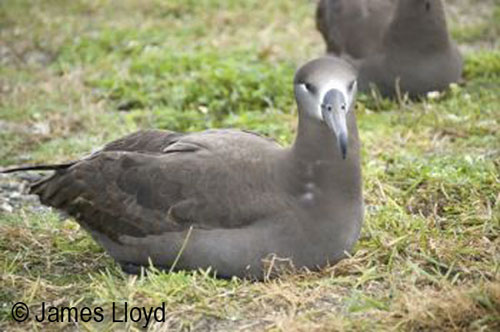 Information on albatross censuses on Midway, and many other observations on the island and its seabirds, may be found in the Papahānaumokuākea Marine National Monument Update.
Recent reports in the informative monthly newsletter cover oiled albatrosses on Midway, a Laysan Albatross die-off on Laysan Island of at least 60 birds in January 2010, albatross monitoring on Tern Island, banding efforts, movements of Black-footed Albatrosses between islands in the Northwestern Hawaiian Islands, updates on the satellite tracking of fledgling Laysan Albatrosses, deployment and recovery of geo-locators, nest building by a pair of Short-tailed Albatrosses P. albatrus on Midway (and a Short-tail visiting Laysan Island), and more.
With thanks to Beth Flint, Maura Naughton and Kim Rivera.
John Cooper, ACAP Information Officer, 1 April 2010