The Royal Society for the Protection of Birds (RSPB) has published in its RSPB Research Report series a monitoring manual for birds and seals, including ACAP-listed albatrosses, at Tristan da Cunha and Nightingale Islands in the South Atlantic.
The report joins a number of others (click here) that deal with aspects of the conservation of seabirds at the Tristan da Cunha and Gough group of islands, including the eradication of introduced rodents.
The report, authored by Erica Sommer, Richard Cuthbert and Geoff Hilton, gives information on Atlantic Yellow-nosed Albatrosses Thalassarche chlororhynchos and Sooty Albatrosses Phoebetria fusca, which breed on both islands.  It has been written to aid the Tristan Conservation Department in undertaking long-term monitoring of vertebrate species of conservation concern - such as the two albatross species, of which, the Atlantic Yellow-nosed Albatross, is endemic to the Tristan -Gough Islands.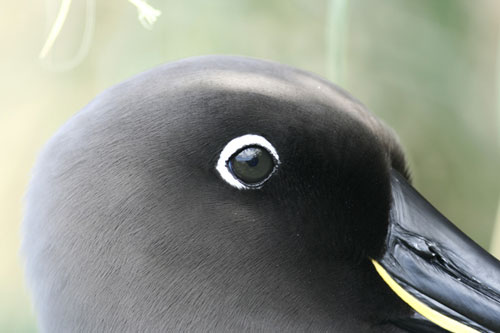 Similar monitoring manuals have been previously published for both Gough and Inaccessible Islands (click here), the other two major islands in the Tristan Group, which together form a single World Heritage Site and additionally are separately Ramsar International Wetland Sites.
Click here for the ACAP Species Assessments for these two albatross species.
Reference:
Sommer, E., Cuthbert, R. & Hilton, G. 2008.Tristan and Nightingale Islands Wildlife Monitoring Manual. RSPB Research Report No. 33. 35 pp.  Click here to access the PDF.
John Cooper, ACAP Information Officer, 14 December 2009