It is now well-known that the Tristan Albatrosses Diomedea dabbenena of Gough Island are facing a double onslaught from longline mortality at sea and from chick predation by introduced House Mice on land.
A measure of breeding production for the whole island for this near-endemic Critically Endangered Species has now been obtained for the sixth year out of the last nine (since 2001).  A total of 488 large chicks was counted this month by a six-person team led by Peter Ryan of the FitzPatrick Institute, University of Cape Town.  With 1794 incubating birds present during the January count, this equates to a maximum breeding success of 27.2%.  Actual breeding success will be lower, with further mortalities expected prior to fledging.  This year's chick count is double last year's, which was the lowest of all the six years studied, but is considered still far too low to sustain the island's population.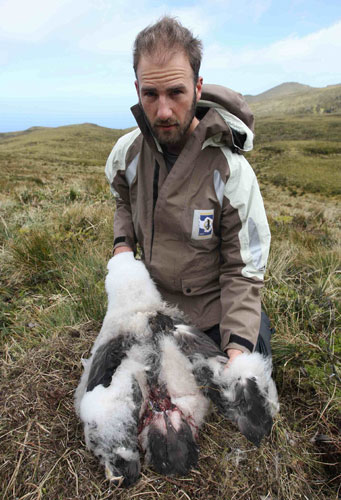 Research is continuing on the island for a further year to obtain necessary information prior to an attempted mouse-eradication exercise (click here for the mouse eradication feasibility study).
John Cooper, ACAP Information Officer and Peter Ryan, University of Cape Town, posted 18 September 2009, updated 30 September 2009