Richard Phillips and Claire Waluda (British Antarctic Survey, Cambridge, UK) have published in the open-access journal Environment International showing that marine debris associated with albatrosses and giant petrels breeding in the South Atlantic has increased since the 1990s, although current plastic loads recorded in the study seem unlikely to have an impact at the population level.
The paper's abstract follows:
Increasing amounts of anthropogenic debris enter the ocean because of mismanagement in coastal communities and, despite a global ban on deliberate dumping, also from vessels, endangering wildlife. Assessing marine plastic pollution directly is challenging, and an alternative is to use seabirds as bioindicators. Our analyses of long time-series (26-years) revealed substantial variation in the amount, characteristics and origin of marine debris (mainly macroplastics and mesoplastics, and excluding fishing gear) associated with seabirds at South Georgia, and, for two species, long-term increases in incidence since 1994. Annual debris recovery rates (items per capita) were 14 × higher in wandering albatrosses Diomedea exulans, and 6 × higher in grey-headed albatrosses Thalassarche chrysostoma and giant petrels Macronectes spp., than in black-browed albatrosses T. melanophris, partly related to differences in egestion (regurgitation), which clears items from the proventriculus. Although some debris types were common in all species, wandering albatrosses and giant petrels ingested higher proportions that were food-related or generic wrapping, gloves, clear or mixed colour, and packaged in South America. This was highly likely to originate from vessels, including the large South American fishing fleets with which they overlap. Debris associated with the two smaller albatrosses was more commonly shorter, rigid (miscellaneous plastic and bottle/tube caps), and packaged in East Asia. Grey-headed albatrosses are exposed to large and increasing amounts of user plastics transported from coastal South America in the Subantarctic Current, or discarded from vessels and circulating in the South Atlantic Gyre, whereas the lower debris ingestion by black-browed albatrosses suggests that plastic pollution in Antarctic waters remains relatively low. Current plastic loads in our study species seem unlikely to have an impact at the population level, but the results nevertheless affirm that marine plastics are a major, trans-boundary animal-welfare and environmental issue that needs to be addressed by much-improved waste-management practices and compliance-monitoring both on land and on vessels in the south Atlantic."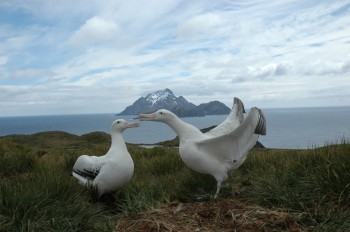 Wamdering Albatrosses on Bird Island in the South Atlantic, photograph by Richard Phillips
With thanks to Richard Phillips.
Reference:
Phillips, R.A. & Waluda, C. 2020. Albatrosses and petrels at South Georgia as sentinels of marine debris input from vessels in the southwest Atlantic Ocean. Environment International 136. doi.org/10.1016/j.envint.2019.105443.
John Cooper, ACAP Information Officer, 14 January 2020