An international team will be heading for sub-Antarctic Antipodes Island next month to eradicate introduced House Mice Mus musculus by aerial poison bait drop. This follows on a successful fund-raising campaign by the Morgan Foundation's Million Dollar Mouse project, supported by the New Zealand Department of Conservation, Island Conservation and WWF-New Zealand.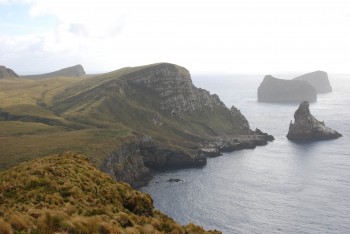 A view of the main island in the Antipodes, with mouse-free Bollons Island in the background, photograph by Erica Sommer
The 19-person operational team will be led by Stephen Horn, assisted by Keith Hawkins, both with the Department of Conservation and includes Keith Springer as Operational Advisor and Safety Officer, all of whom are New Zealanders. Keith previously managed the successful project to eradicate rodents and rabbits on Australia's Macquarie Island and was part of Team Rat on South Georgia (Islas Georgias del Sur)*. The six bait loaders include Jason Zito from Hawaii and Jose-Luis Hererra from Colombia who work with the USA-based NGO Island Conservation. Other members of the operational team include New Zealanders Chief Pilot Tony Michelle (who was a member of Team Rat in 2013) and pilot Darron McCulley,a helicopter engineer, a Geographical Information Systems (GIS) mapping specialist (Ann De Schutter, originally from Belgium) and a medical doctor, Jamie Doube, who was also with Team Rat.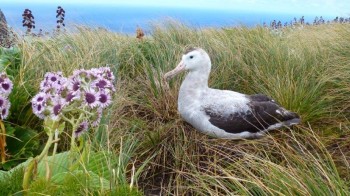 Antipodean Albatross - with megaherb - on Main Island, Antipodes, photograph by Colin O'Donnell
Field trials took place last month in loading helicopters onto the transport ship Norfolk Guardian and (non-poison) bait loading and spreading on the Levels Raceway at Timaru, South Island (click here for videos).
The Norfolk Guardian is set to depart from Timaru for the Antipodes on 24 May with baiting planned to commence by 15 June at the latest. The initial task will be for six builders to erect a temporary platform and hangar ashore for the two helicopters supplied by Island Aerial Solutions. The vessel will carry the helicopters, the cereal bait in specially-constructed wooden bait boxes, 30 tonnes of Jet Fuel in 200-litre drums and some of the team to the island. It will stay on site for up to two weeks until the cargo is off-loaded and the structures erected. The yacht Evohe will depart Dunedin on 23 May for the Antipodes to deliver the other 12 members of the team. Prior to departure biosecurity and safety training will be given in Invercargill to both groups.
The eradication of mice on Antipodes will follow their successful demise on Macquarie and (to be confirmed) South Georgia (Islas Georgias del Sur)* in the Southern Ocean. If it achieves its goal it should give a boost to plans to eradicate the predatory mice of Gough Island that are ravaging that island's birds (click here).
ACAP Latest News will report on the eradication exercise as it progresses. Follow its fortunes on its website blog and Facebook page.
With thanks to Keith Springer for information.
John Cooper, ACAP Information Officer, 20 April 2016
*A dispute exists between the Governments of Argentina and the United Kingdom of Great Britain and Northern Ireland concerning sovereignty over the Falkland Islands (Islas Malvinas), South Georgia and the South Sandwich Islands (Islas Georgias del Sur y Islas Sandwich del Sur) and the surrounding maritime areas.