The Commission for the Conservation of Antarctic Marine Living Resources (CCAMLR) was established by international convention in 1982 with the objective of conserving Antarctic marine life. The 34th Annual Meetings of CCAMLR were held in Hobart, Tasmania, Australia last month.
Once again proposals for Marine Protected Areas (MPAs) in East Antarctica and in the Ross Sea Region were not adopted:
"Each of these proposals have [sic] evolved over the past few years as proponents incorporate feedback from other Members. This year the Ross Sea Region proposal, which was amended to include a krill and an expanded special research zone, gained further support from Members. Proponents of both proposals will continue discussions over the next 12 months and the proposals will likely be back on the agenda for the annual meeting in 2016" (click here).
CCAMLR has reported as a highlight of this year's meetings: "ACAP attributed the lowest seabird by-catch ever recorded in the Convention Area, this past season, to CCAMLR's continued excellence in high-seas fisheries management."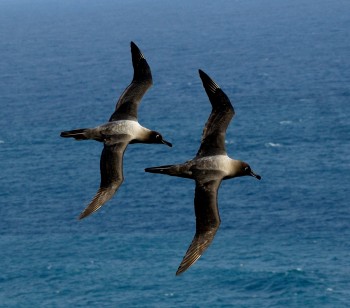 Light-mantled Sooty Albatrosses occur within CCAMLR waters, photograph by Aleks Terauds
CCAMLR and ACAP renewed their Memorandum of Understanding without emendation from the original text of March 2013 (click here).
This year's CCAMLR meetings were attended by ACAP's Science Officer Wiesława Misiak and Executive Secretary, Warren Papworth.
John Cooper, ACAP Information Officer, 21 November 2015