The Sub-Committee on Ecosystems of the International Commission for the Conservation of Atlantic Tunas (ICCAT) is meeting intersessionally this week at the commission's headquarters in Madrid, Spain (click here).
Among other matters up for discussion at the meeting is the initiation of a review of the efficiency of seabird by-catch methods as set out in ICCAT Recommendation 11.09 "Supplemental Recommendation by ICCAT on Reducing Incidental Bycatch of Seabirds in ICCAT Longline Fisheries". This recommendation lists line-weighting, use of bird-scaring lines and night setting with minimum deck lighting as mitigation measures.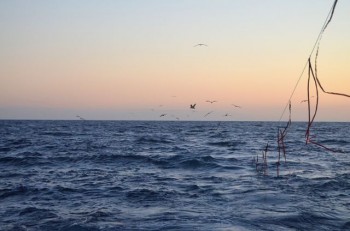 A deployed bird-scaring line, photograph by Vero Cortes
ACAP is being represented at the meeting by Anton Wolfaardt, Convenor, of its Seabird Bycatch Working Group.
John Cooper, ACAP Information Officer, 11 June 2015