Phase 3 of the rodent-eradication programme on South Georgia (Islas Georgias del Sur)* in the South Atlantic, last reported in ACAP Latest News to be 80% completed by the South Georgia Heritage Trust's "Team Rat" (click here), reached 100% coverage two days ago on Monday the 23rd as reported in Project News No. 26.
"At 12:37 today I watched helicopter Alpha Mike flown by Chief Pilot Peter Garden pick up the 259th load of Phase 3 rodent bait and then disappear over the hill. Thirteen minutes later Peter returned with an empty bucket, as he has done many, many times before. But this load was different, because it was the last load of the Charlotte baiting zone, and the last load of Phase 3. Not only that, but this was also the last load of bait for the entire South Georgia Habitat Restoration project. After many years of preparation, three seasons of fieldwork, more than 800 bait loads, a thousand helicopter flying hours and over a thousand square kilometres treated, the final pellet had been dropped."
Now that Phase 3 is completed and thus all the areas of the island infested with either Norway or Brown Rats Rattus norvegicus or House Mice Mus musculus have been treated with poison bait comes a long (and no doubt anxious) wait for at least two years with no further signs of live rodents before the island can be declared officially rat (and mouse) free. If this is achieved then South Georgia (Islas Georgias del Sur)* will become the largest island by far anywhere in the World where rodents have been eradicated; allowing its especially smaller seabirds a chance to recover. Success should encourage plans and efforts to remove rodents from other ACAP-listed seabird islands in the Southern Ocean.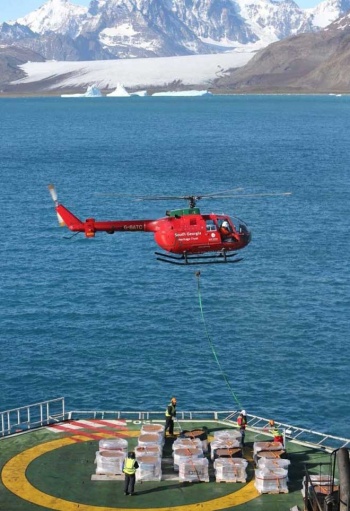 Transferring poison bait from ship to shore, photograph courtesy of Tony Martin
Click here to access Project News, Team Rat's monthly newsletter.
Other news from the island is that following the last account (click here) on the demise of Reindeer Rangifer tarandus on South Georgia (Islas Georgias del Sur)* which had 44 animals removed in January this year, a further three animals (all males) were spotted in February, as reported below.
"Three male reindeer were spotted on February 14th by a field party and one of the helicopters baiting the Barff Peninsula to remove rats. The Barff Peninsula was largely cleared of introduced reindeer last summer, with a further 'mopping up' operation carried out by the same Norwegian SNO marksmen earlier this season. Although the reindeer were skittish around the helicopter, once baiting operations had moved to the south the hunting party of three managed to get close enough to shoot the reindeer. It was notable that the three reindeer were in very good condition; heavy with big racks of antlers. Previously, with thousands of deer in the area, it was so overpopulated that the animals were small and in poor condition" (click here).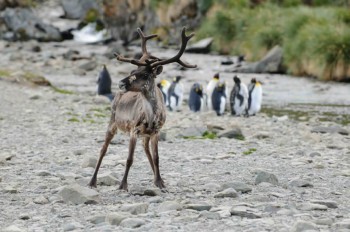 Now gone: a Reindeer among King Penguins, photograph by Martin Collins
John Cooper, ACAP Information Officer, 25 March 2015
*A dispute exists between the Governments of Argentina and the United Kingdom of Great Britain and Northern Ireland concerning sovereignty over the Falkland Islands (Islas Malvinas), South Georgia and the South Sandwich Islands (Islas Georgias del Sur y Islas Sandwich del Sur) and the surrounding maritime areas.