ACAP Latest News has been receiving daily reports by e-mail of progress with helicopter baiting the southern part of South Georgia (Islas Georgias del Sur)* as Phase 3 of the ambitious plan by the South Georgia Heritage Trust to eradicate rodents over the whole island moves towards completion.
Team Rat's latest report for 14 March is given below in full. With 80% of the Phase 3 target area baited and the smaller species of birds returning, things are starting to look positive for success, following a long period of poor weather that did not allow flying this and last month.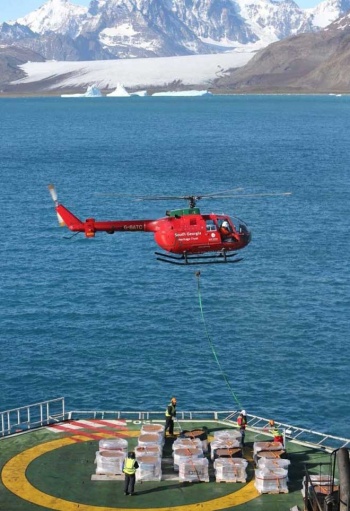 Air-lifting bait pods to the island
"Dawn this morning revealed that rare thing on South Georgia - a clear, starry sky - and Team Rat was in the air shortly afterwards, heading for the southernmost FOB at Wirik Bay to see if conditions were similarly promising there. They were.
And so started a bad day for some of the most southerly rats in the world. We sowed 26 pods from that site, completed an area of land we're calling Cooper East, and started Cooper Island before wind and rain swept in and brought a rapid end to events by early evening. In the three weeks prior to Friday we managed just 20% of the Phase 3 target, and anxiety was beginning to creep in, but in the past 3 days we have suddenly jumped another 20%, and now stand at just over 80% of the target accomplished."
"Today in front of Larsen House I saw a flock of four pipits [South Georgia Pipit Anthus antarcticus]- further confirmation that this charming SG endemic is coming back in strength as a result of the Habitat Restoration Project. And, on the water not 10 metres away from the pipits, all day long I've been entranced by 15 Wilson's storm petrels [Oceanites oceanicus]. Just like the pipits, storm petrels can't breed successfully when rats are present, and this unprecedented number of birds in front of the base here at KEP [King Edward Point] may well indicate that the species is already exploring local scree slopes for future nesting opportunities. The birds really are reclaiming this island, even while we're still here finishing the job of removing their persecutors."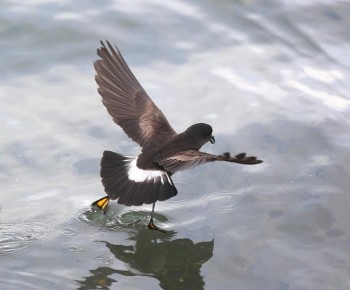 Wilson's Storm Petrel, Photograph by Tony Martin
Baiting on the afternoon of the 15th following a night and morning of bad weather has now taken coverage up to 84%. Team Rat reports "another one and a half days flying should see us done - we have about 45 loads of bait left to spread." Poor weather again stopped flying on the 16th, but good weather is forecast for the coming weekend. Let's hope so!
Click here to access Team Rat's monthly newsletters.
With thanks to Anthony Martin, Director, South Georgia Habitat Restoration Project for information and photographs.
John Cooper, ACAP Information Officer, 18 March 2015
*A dispute exists between the Governments of Argentina and the United Kingdom of Great Britain and Northern Ireland concerning sovereignty over the Falkland Islands (Islas Malvinas), South Georgia and the South Sandwich Islands (Islas Georgias del Sur y Islas Sandwich del Sur) and the surrounding maritime areas.