The Chatham Island Taiko Trust has been preparing to collect Chatham Albatross Thalassarche eremita chicks from the breeding colony on The Pyramid off New Zealand's Chatham Islands, the species' single breeding site for the second year.
Activities in preparation for the 2015 transfer have included weeding around the artificial nests used in the previous season at the translocation site at Point Gap, Tuku Farm on the south-west coast of Main Chatham and filling up beach ball bladders with water to weigh down the decoys.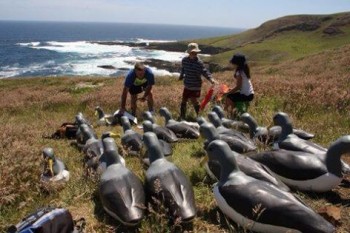 The decoys get readied for Season Two
News is now in that 40 chicks were successfully transferred last week from The Pyramid to the translocation site. There they will be artificially reared in the hope of eventually creating a new breeding colony.  The 2015 chicks have been given their first feed, with the experience gained last year helping the exercise to go smoothly.
This year's effort follows on the first year of the project when 50 chicks were translocated (click here).  All 50 fledged successfully (click here).
Chatham Albatross chicks on their artificial nests among decoys in the first translocation season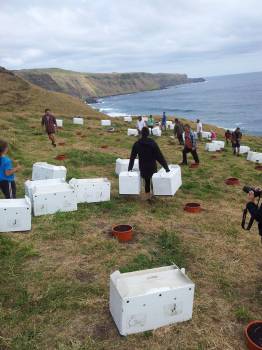 The transfer team carries the 2015 chicks into their new home in transfer boxes
Photographs courtesy of the Chatham Island Taiko Trust
John Cooper, ACAP Information Officer, 19 January 2015