Following the success of the Million Dollar Mouse Campaign in raising funds to support the costs of ridding New Zealand's Antipodes Island of its introduced House Mice Mus musculus (click here) a Department of Conservation (DOC) expedition is leaving for the island around month end and ahead of next year's planned bait drop (click here).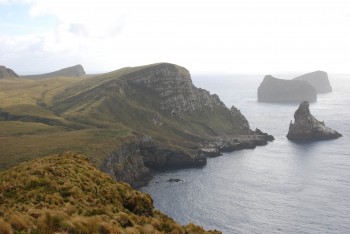 Looking across from Antipodes Island to mouse-free Bollons Island
Photograph by Erica Sommer
The Antipodes supports seven species of ACAP-listed albatrosses and petrels, including the Vulnerable Antipodean Albatross Diomedea antipodensis. (click here) Chicks of two closely related species, the Critically Endangered Tristan Albatross D. dabbenena of Gough Island and the Vulnerable Wandering Albatross D. exulans of Marion Island are attacked by House Mice leading to deaths as reported previously in ACAP Latest News, and although not yet reported such attacks could occur on the Antipodes.
A pair of Antipodean Albatrosses, photograph by Erica Sommer
Antipodes Islands mouse eradication project manager Stephen Horn reports that "with a million dollars raised towards the project, and a series of trials already completed, it was time to start what would be a long battle." (click here)
As part of the expedition, scientists will assess the populations of non-target biota, including the Antipodes Cyanoramphus unicolor and Reischek's C. hochstetteri Parakeets, Antipodes Island Snipe Coenocorypha aucklandica meinertzhagenae and the Antipodes Island Pipit Anthus novaeseelandiae steindachneri - all endemic taxa - on nearby and mouse-free Bollons Island. Pipits are to be captured to conduct husbandry trials so that a population can be taken into temporary captivity during the bait drop.
Click here and here to read of last year's expedition to the island, conducted to undertake studies of the island's biota threatened by mice.
Together with the other four sub-Antarctic island groups belonging to New Zealand the Antipodes form part of a World Heritage Site, in addition to being a National Nature Reserve and are both Important and Endemic Bird Areas.
John Cooper, ACAP Information Officer, 12 July 2014