The eradication of rats and mice on the South Atlantic island of South Georgia (Isla Georgias del Sur)* remains on track, according to the March 2014 issue (No. 20) of Project News, newsletter of the South Georgia Heritage Trust.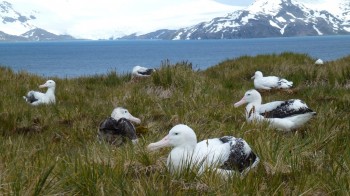 South Georgia (Isla Georgias del Sur)* lies behind rodent-free Albatross Island and its Wandering Albatrosses
Photograph by Sally Poncet
The project is now halfway between Phase 2 and Phase 3 of the multi-year operation, with fund raising underway for the last season of aerial poison baiting of the introduced Norway Rats Rattus norvegicus and House Mice Mus musculus, due to take place in 2015.
Surveys in the 12 Phase-2 baiting zones treated in 2013 have not revealed any signs of rats or mice (utilizing chew sticks, wax tags. tracking tunnels and automatic cameras) and evidence of returning birdlife has been noted. Although still too early to call success the situation is looking good, according to the newsletter.
The Chief Pilot for all three Phases on South Georgia (Isla Georgias del Sur)* has been the well-known Peter Garden, who is based in New Zealand. Peter writes to ACAP with news of how he found New Zealand's Campbell Island 13 years after he helped to rid it of its own rat population.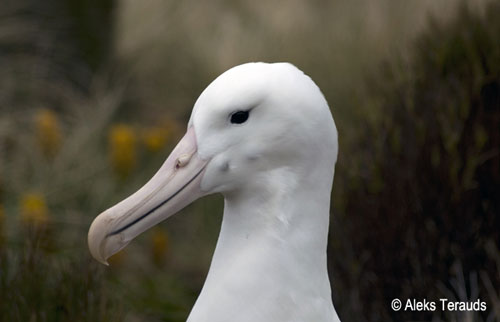 The Southern Royal Albatrss breeds on rat-free Campbell Island
Photograph by Aleks Terauds
"This island [Campbell] was the first island that I had had the opportunity to revisit after carrying out eradication work and I was very interested in seeing, first hand, the results.
As we came ashore in Perseverance Harbour we spotted two Campbell Island Teal. These flightless ducks had been completely exterminated on the main island by rats, only surviving in very small numbers on the offshore rock stacks. Along with the endemic Campbell Island Snipe they have now bounced back and are happily inhabiting their former home.
Megaherbs, the gigantic perennial wildflowers that were once chewed down by rats, are now growing prolifically all over the island.
It is this sort of result that makes all the difficult flying and uncomfortable living conditions that go along with this type of work all worthwhile."
John Cooper, ACAP Information Officer, 22 April 2014
*A dispute exists between the Governments of Argentina and the United Kingdom of Great Britain and Northern Ireland concerning sovereignty over the Falkland Islands (Islas Malvinas), South Georgia and the South Sandwich Islands (Islas Georgias del Sur y Islas Sandwich del Sur) and the surrounding maritime areas.