Wisdom the famous 63-year-old Laysan Albatross Phoebastria immutabilis of the Midway Atoll Wildlife Refuge has successfully hatched her egg on 4 February (click here).
"As the world's oldest known bird in the wild, Wisdom is an iconic symbol of inspiration and hope for all seabird species" said Dan Clark, refuge manager for Midway.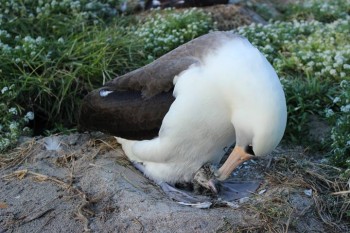 Wisdom tends her latest chick, photograph by Ann Bell/USFWS
She laid her latest egg on 29 November 2013 - exactly a year and one day since she laid her egg in 2012. Wisdom is thought to be the oldest banded wild bird in the World and has bred successfully every year on Sand Island in the refuge since at least 2008 (click here).
Wisdom is recognized by her red colour band Z333. She was banded as an adult in 1956. Last year her mate was marked with colour band G000, and he is back again for the 2013/14 season. Remarkably Wisdom was videoed last year in the act of laying her egg (click here).
To read more ACAP news items about the exploits of Wisdom, and of the children's book, mascot, poem, Facebook page and artwork she has inspired click here.
For more photos opf Wisom's recent breeding efforts click here.
John Cooper, ACAP Information Officer, 20 February 2014