Guillaume Lapin or just plan Billy Bunny, in any language the Macquarie Island Pest Eradication Project (MIPEP) seems set to succeed. This ambitious multi-year project aims to eradicate three species of introduced mammals from Australia's sub-Antarctic Macquarie island with its important populations of ACAP-listed seabirds: European Rabbit Oryctolagus cuniculus, Black Rat Rattus rattus and House Mouse Mus musculus.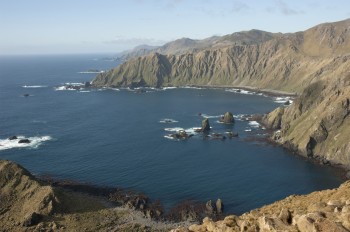 A view of Macquarie Island, photographed by Aleks Terauds
Poison bait was dropped over the island by helicopter in the austral winter of 2011. Since then field teams with especially trained rabbit- and rodent-detecting dogs have been scouring the island for any signs of alien life. No live rodents have ever been found since shortly after the poison bait drop but in the first few months following baiting the hunting teams and their dogs removed a total of 13 rabbits. However, it now it seems the rabbits are no more.
MIPEP's Manager, Keith Springer, soon to head back to Macquarie, reports to ACAP Latest News:
"It is now two years later this month since the last rabbit was killed, although there was a bit of sign into early December 2011, where we never accounted for the rabbit that left it. We will continue the search over the summer with a beefed-up team and that will probably end the field work if nothing is found by March when we come home on the resupply voyage. The dogs would then also return in March."
However, Keith adds: "we are prepared for the possibility of sending a team to the island in 2015 if necessary."
If MIPEP is announced to be a success come March 2013 then Macca at 12 780 ha will the World's largest island from which House Mice have been eradicated by a factor of over three: up from 3800 ha when New Zealand announced success two years ago in ridding the joined islands of Rangito and Motutapo of their mice (and other alien mammals, including European Rabbits).
This will be good news for the planned attempts to eradicate mice on New Zealand's Antipodes Island (2000 ha) and the United Kingdom's Gough Island (6800 ha): both substantially smaller than Macquarie.
Click here to read illustrated weekly updates on MIPEP from the field team of hunters and dog handlers on Macca. Occasional blogs from the field give added details.
ACAP Latest News has carried regular reports on MIPEP since 2010 (click here for a listing).
With thanks to Keith Springer for information.
John Cooper, ACAP Information Officer, 11 November 2013