Barry Baker and colleagues (Latitude 42 Environmental Consultants Pty Ltd) have produced their latest report on estimating population size of the White-capped Albatross Thalassarche steadi, which is endemic to New Zealand.
Their research is funded by the Conservation Services Programme of New Zealand's Department of Conservation.
The report's shortened summary follows:
"White-capped albatrosses Thalassarche steadi are endemic to New Zealand, breeding on Disappointment Island, Adams Island and Auckland Island in the Auckland Island group, and Bollons Island (50-100 pairs) in the Antipodes Island Group. Population estimates suggest most (95%) of the global population breeds on Disappointment Island, an area where access is restricted to maintain environmental values at the site. Virtually all aspects of the biology and ecology of white-capped albatrosses are poorly known and although approximate population sizes have developed there have been no well-documented population estimates for any of the colonies.
Between 2006/07 and 2010/11 (hereinafter 2006 and 2010, respectively) we undertook repeated population censuses of the white-capped albatrosses breeding in the Auckland Islands using aerial photography. These population censuses were carried out in December each year to estimate population size and track population trends. We have now undertaken two additional counts at the Auckland Islands: on 11 January 2012 and 14 January 2013 (2011 and 2012 breeding seasons, respectively).
In 2011 we estimated that there were 93,752 (95%CI 93,140 — 94,364), 5,846 (5,604 — 5,999) and 178 (151— 205) annual breeding pairs at Disappointment Island, South West Cape and Adams Island, respectively, giving a total for these sites of 99,776 (99,144—100,408) breeding pairs. In 2012 we estimated that there were 111,312 (95%CI 110,645 — 111,979), 6,571 (6,409 — 6,733) and 215 (186 — 244) annual breeding pairs at Disappointment Island, South West Cape and Adams Island, respectively, in 2012, giving a total for these sites of 118,098 (117,411 — 118,785) breeding pairs.
In a global review of fisheries-related mortality of shy and white-capped albatrosses it was estimated that 8,000 white-capped albatrosses were killed each year as a result of interactions with trawl and longline fisheries in the Southern Ocean. This level of mortality highlights the need to continue to acquire accurate population estimates and trends for white-capped albatross populations to assess the impact of fisheries operations on this species. Although annual counts over the last seven years indicate the population is stable, ongoing population monitoring is recommended to clarify if current levels of fishing mortality are sustainable."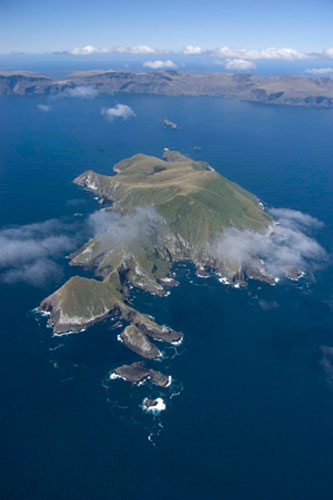 Disappointment Island, photographed by Barry Baker
Click here for the 2010 report on Whire-capped Albatrosses by Latitude 42.
BirdLife International will consider uplisting the White-capped Albatross from Near Threatened to Vulnerable in 2014 (click here).
With thanks to Barry Baker for information.
Reference:
Baker, G.B., Jensz, K. & Cunningham, R. 2013. White-capped Albatross Population Estimate — 2011/12 and 2012/13 Final Report. Wellington: Department of Conservation. 22 pp.
John Cooper, ACAP Information Officer, 5 August 2013