Over the past 14 month's field researchers, Ben Dilley and Delia Davis of the Percy FitzPatrick Institute of African Ornithology, University of Cape Town, have studied four species of burrowing petrels on South Africa's Marion Island.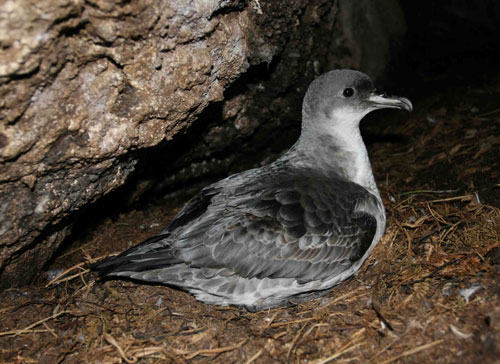 Grey Petrel on Marion Island. Photograph by Peter Ryan
Research has been concentred on two summer-breeding species, the ACAP-listed White-chinned Petrel Procellaria aequinoctialis and the Blue Petrel Halobaena caerulea and on the winter-breeding ACAP-listed Grey Petrel P. cinerea and the Great-winged Petrel Pterodroma macroptera. Breeding density and success information has been collected to compare with previous studies. Burrow cameras have been used to ascertain what effects, if any, the island's introduced House Mice Mus musculus have on breeding success. In addition, GLS trackers have been attached to (or recovered from earlier deployments on) the two Procellaria petrels to follow their movements at sea.
Findings, set to continue on the island with new researchers during 2013, have shown that White-chinned Petrels have increased in breeding density since the 1980s, perhaps due to the elimination of feral cats Felis catus in 1991, and in 2012/13 had a breeding success of 68% - much higher than during and immediately after the cat era. In contrast in 2012 the much rarer Grey Petrel had a zero breeding success (albeit on a small sample), worse than the 5-12% of earlier cat-era studies.
The remote burrow cams have revealed mice entering Grey Petrel burrows in winter and interacting with chicks, although White-chinned Petrel chicks in summer months seem to have been left alone.
The cameras have also recorded interactions between the two ACAP-listed species. Because their breeding seasons at Marion Island overlap, White-chinned Petrels returning to breed may sometimes take over burrows occupied by Grey Petrels, leading to the death of a late-stage Grey Petrel chick in one case.
Information collected at Marion Island on burrowing petrels helps inform progress towards dealing with the mouse problem. It is planned that a mouse eradication feasibility study will be undertaken in 2014, as the next step towards their hoped-for eventual eradication.
Click here and here for earlier news items on this study.
For information on the deleterious effects of mice on the burrowing petrels, including the Grey Petrel, of Gough Island click here.
Selected references:
Berruti, A., Cooper, J. & Newton, I.P. 1995. Morphometrics and breeding biology of the Whitechinned Petrel Procellaria aequinoctialis at sub-Antarctic Marion Island. Ostrich 66: 74-80.
Bester, M.N., Bloomer, J.P., van Aarde, R.J., Erasmus, B.H., van Rensburg, P.J.J., Skinner, J.D., Howell, P.G. & Naude, T.W. 2002. A review of the successful eradication of feral cats from sub-Antarctic Marion Island, southern Indian Ocean. South African Journal of Wildlife Research 31: 65-73.
Cooper, J. & Fourie, A. 1991. Improved breeding success of Great-winged Petrels Pterodroma macroptera following control of feral cats Felis catus at subantarctic Marion Island. Bird Conservation International 1: 171-175.
Cooper, J. Marais, A.V.N., Bloomer, J.P. & Bester, M.N. 1995. A success story: breeding of burrowing petrels (Procellariidae) before and after eradication of feral cats Felis catus at sub-Antarctic Marion Island. Marine Ornithology 23: 33-37.
Newton, I.P. & Fugler, S.R. 1989. Notes on the winter-breeding Greatwinged Petrel Pterodroma macroptera and Grey Petrel Procellaria cinerea at Marion Island. Cormorant 17: 27-34.
Percy FitzPatrick Institute 2012. New project to assess petrel status. Africa Birds & Birding 17(4): 16.
Ryan, P.G., Dilley, B.J. & M. G. W. Jones, M.G.W. 2012. The distribution and abundance of white-chinned petrels (Procellaria aequinoctialis) breeding at the sub-Antarctic Prince Edward Islands. Polar Biology 12: 1851-1859.
Schramm, M. 1986. Burrow densities and nest site preferences of petrels (Procellariidae) at the Prince Edward Islands. Polar Biology 6: 63-70.
With thanks to Ben Dilley for information.
John Cooper, ACAP Information Officer, 17 May 2013