Verbesina or Golden Crownbeard Verbesina encelioides is an invasive weed that has modified the habitat of native plants, invertebrates and ground-nesting birds, particularly ACAP-listed Laysan Phoebastria immutabilis and Black-footed P. nigripes Albatrosses, on the USA's Midway Atoll National Wildlife Refuge in the North-western Hawaiian Islands (NWHI).
According to a news article on the TechLine Invasive Plant News web site last month "Verbesina [on Midway] grows very tall and dense which causes adults to expend more energy trying to locate their chicks for feeding. There is less airflow and thus higher temperatures in thick verbesina making chicks more susceptible to dehydration. The dense stands make it more difficult for the chicks to reach the ocean and fledge. Verbesina tends to harbor scale and aphid insects as well as ants. The ants irritate nesting adults and may prey on their eggs and chicks."
The US Fish & Wildlife Service's Verbesina management programme on Sand and Eastern Islands began in the late 1990s with mechanical removal by hand-pulling and mowing was strengthened from 2003. Control is now accomplished mainly by applying the herbicide Milestone™ with backpack sprayers. "Monitoring data shows [sic] that the integrated control program is effectively reducing verbesina on Eastern Island. Treated areas have three percent or less aerial coverage of verbesina compared to 34 to 80 percent coverage in sectors not currently managed."
Verbesina control is followed by planting of the native Akiaki Grass Sporobolus virginicus and bunchgrass Eragrostis variabilis that have been propagated in nurseries on Midway. Removal of Verbesina also allows the native Puncture Vine Tribulous cistoides to restore the area naturally in some locations.
Click here to read more on the Verbesina control efforts on Midway and here for similar efforts on Kure Atoll in the NWHI.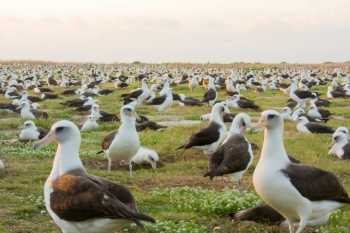 Laysan Albatrosses on Midway Atoll in a Verbesina-free area
Photograph by Lindsay Young
Reference:
Klavitter, J., Schulmeister, S., Leary, P. & Schubert, G. 2012. Eastern Island, Midway Atoll National Wildlife Refuge Verbesina Eradication Update: November 26, 2012. Honolulu: U.S. Fish and Wildlife Service.
John Cooper, ACAP Information Officer, 23 April 2013