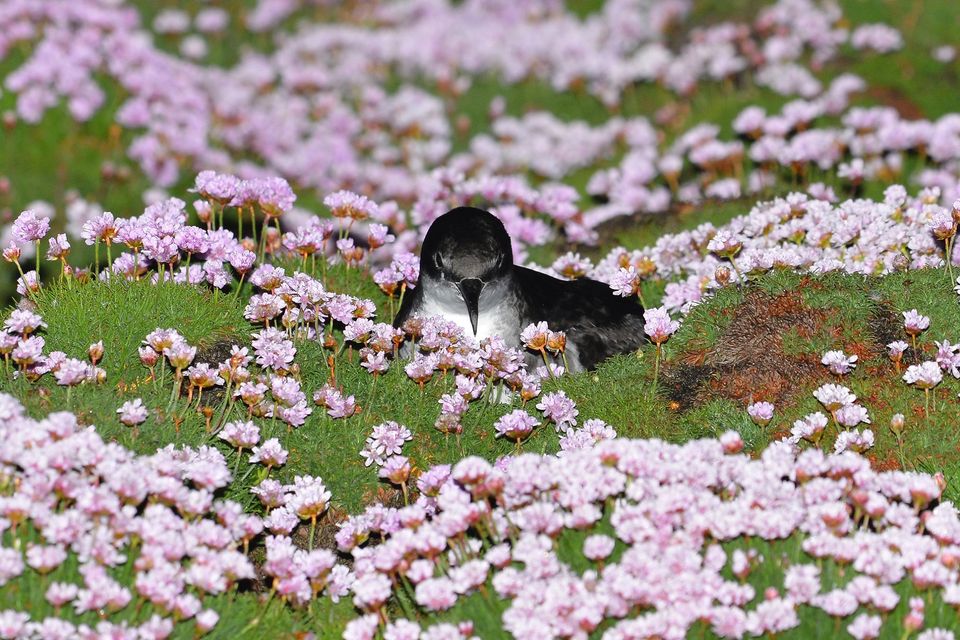 A Manx Shearwater amongst flowers; photograph by Chris Perrins
Clare L. Alley (School of Animal, Rural and Environmental Sciences, Nottingham Trent University, Nottinghamshire, United Kingdom) and colleagues have published open access in Seabird on the prevalence of plastic ingestion by Manx Shearwaters on Skomer Island, Wales.
ACAP has recently announced "Plastic Pollution" as the 2023 theme for World Albatross Day, marked annually on June 19. The Manx Shearwater is not an ACAP-listed species, however it, along with many albatrosses, petrels, shearwaters and other seabirds, are foraging in waters increasingly polluted with plastic.
Two new albatross species will be used to feature the theme for next year's World Albatross Day, with artworks, posters, infographics and a music video. These will be the globally Endangered Northern Royal Albatross D. sanfordi, endemic to New Zealand, and the abundant and widespread Black-browed Albatross Thalassarche melanophris. In addition, coverage will be given to last year's featured species, the Black-footed Phoebastria nigripes and Laysan P. immutabilis Albatrosses of the North Pacific, which ingest more plastic than do the southern hemisphere species.
More information on next year's World Albatross Day and its theme of "Plastic Pollution" can be found at the ACAP website, here.
The paper's abstract is as follows:
"Plastic debris is ubiquitous in the marine environment, and seabirds are among the most impacted marine vertebrates. Plastic ingestion was investigated in an internationally-important breeding population of Manx Shearwaters Puffinus puffinus on Skomer Island, Wales in 2018–19. Opportunistic necropsies were carried out on a total of 34 birds to collect contents of the gastrointestinal tract: 13 adults in April – July 2018 and 12 fledglings during September 2019, and a further nine opportunistic necropsies carried out from adults in July – September 2018. The presence, quantity, size and colour of plastic in the gastrointestinal tract was investigated. Plastic was found in 71% of stomach contents (68% of adults, 75% of fledglings). Adults were found to have larger plastic pieces in their gastrointestinal tract than fledglings, and lighter birds had larger pieces of plastic in their tracts than heavier birds. This study shows that Manx Shearwaters on Skomer Island are vulnerable to plastic ingestion, and that adults are likely to pass plastic to their chicks."
REFERENCE:
Alley, C.L., Arkless, S., Ames, E., Abrahams, M., Gentle, L.K. and Wood, M.J. 2022. Plastic ingestion in adult and fledgling Manx Shearwaters Puffinus puffinus on Skomer Island, Wales. Seabird: 34.http://www.seabirdgroup.org.uk/seabird-34
Posted 12 September 2022