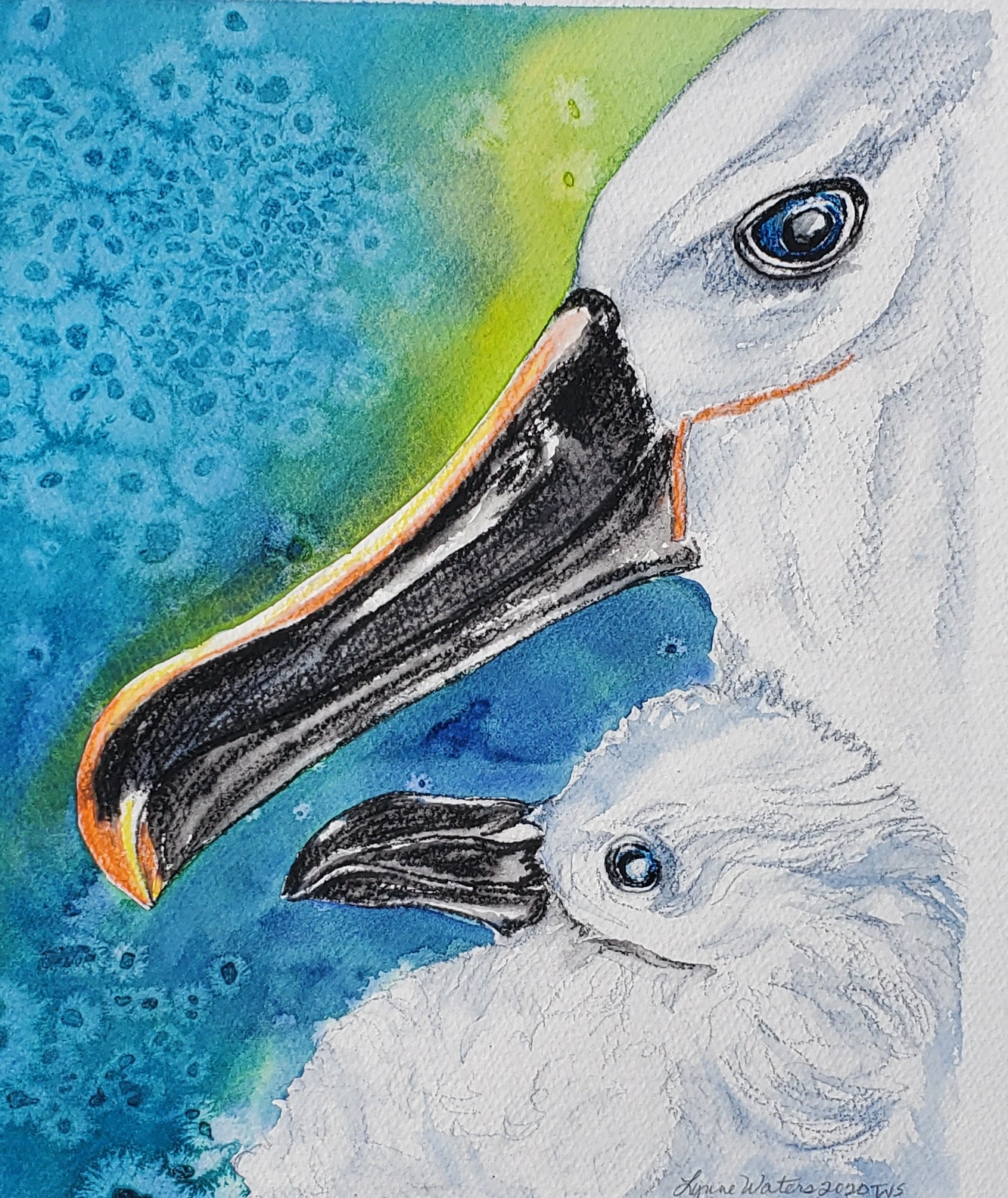 Atlantic Yellow-nosed Albatross artwork for ACAP by Lynne Waters, Artists & Biologists Unite for Nature (ABUN)

Florian Orgeret (Marine Apex Predator Research Unit, Nelson Mandela University, Gqeberha, South Africa) and colleagues have published open view in the journal Ecology Letters on aspects of climate change impacting seabirds.
The paper's abstract follows:
"Understanding climate change impacts on top predators is fundamental to marine biodiversity conservation, due to their increasingly threatened populations and their importance in marine ecosystems. We conducted a systematic review of the effects of climate change (prolonged, directional change) and climate variability on seabirds and marine mammals. We extracted data from 484 studies (4808 published studies were reviewed), comprising 2215 observations on demography, phenology, distribution, diet, behaviour, body condition and physiology. The likelihood of concluding that climate change had an impact increased with study duration. However, the temporal thresholds for the effects of climate change to be discernibly varied from 10 to 29 years depending on the species, the biological response and the oceanic study region. Species with narrow thermal ranges and relatively long generation times were more often reported to be affected by climate change. This provides an important framework for future assessments, with guidance on response- and region-specific temporal dimensions that need to be considered when reporting effects of climate change. Finally, we found that tropical regions and non-breeding life stages were poorly covered in the literature, a concern that should be addressed to enable a better understanding of the vulnerability of marine predators to climate change."
Reference:
Orgeret, F., Thiebault, A., Kovacs, K.M., Lydersen, C., Hindell, M.A., Thompson, S.A., Sydeman, W.J. & Pistorius, P.A. 2021. Climate change impacts on seabirds and marine mammals: the importance of study duration, thermal tolerance and generation time. Ecology Letters doi.org10.1111/ele.13920.
John Cooper, ACAP Information Officer, 18 November 2021