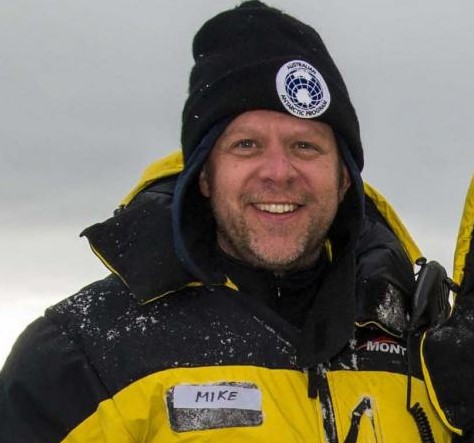 Mike Double, as he writes "looking suitably cold down in Antarctica"
At the 12th Meeting of the ACAP Advisory Committee, held virtually due to the COVID-19 pandemic earlier this month, its Chair, Nathan Walker (Ministry for Primary Industries, New Zealand) stood down. The meeting then elected Dr Michael Double in his place.
Mike Double is a Principal Research Scientist at the Australian Antarctic Division, based in Kingston, Tasmania where he leads the AAD's Wildlife Ecology and Management Section (that conducts research on ACAP-listed species) and the Australian Marine Mammal Centre. Mike obtained his PhD from the United Kingdom's University of Leicester in 1995. He then moved to Australia to take up a post-doctoral fellowship at the Australian National University in Canberra, followed by a move to the Australian Antarctic Division in 2007. His research interests include the movement, distribution and population ecology of both marine mammals and seabirds. His more than 90 scientific publications include several papers on the biology, taxonomy and conservation of ACAP-listed Shy Thalassarche cauta and White-capped T. steadi Albatrosses.
Mike writes to ACAP Latest News:
"It's an honour to be elected as Chair of the Advisory Committee and I look forward to serving ACAP and its Parties to progress the conservation of albatrosses and petrels. These iconic birds of wild oceans continue to face many threats and although ACAP and its Parties have many conservation successes to celebrate, populations continue to decline. ACAP's role remains as critical as ever and I hope I can facilitate further steps towards reducing human-induced impacts on ACAP-listed species."
Prior to his appointment as AC Chair, Mike Double served as a member of the Agreement's Taxonomy Working Group from 2005, a large part of that period as its Convenor. He has also attended international meetings of the Commission for the Conservation of Antarctic Marine Living Resources (CCAMLR) and the International Whaling Commission (IWC) as a member of Australia's delegations.
At AC12 Sebastián Jiménez (Uruguay) was appointed Co-convenor and Dimas Gianuca (Brazil) Co-vice convenor of ACAP's Seabird Bycatch Working Group, which had met virtually a week before AC12. These appointments were occasioned by the resignation of the SBWG's Co-convenor, Anton Wolfaardt, so that he may concentrate his efforts as Project Leader for the Mouse-Free Marion Project.
The Advisory Committee took the occasion to thank Nathan for his leadership and dedication to the work of the Advisory Committee and Anton for his leadership and contributions to the Seabird Bycatch Working Group over many years.
With thanks to Mike Double.
John Cooper, ACAP Information Officer, 21 September 2021