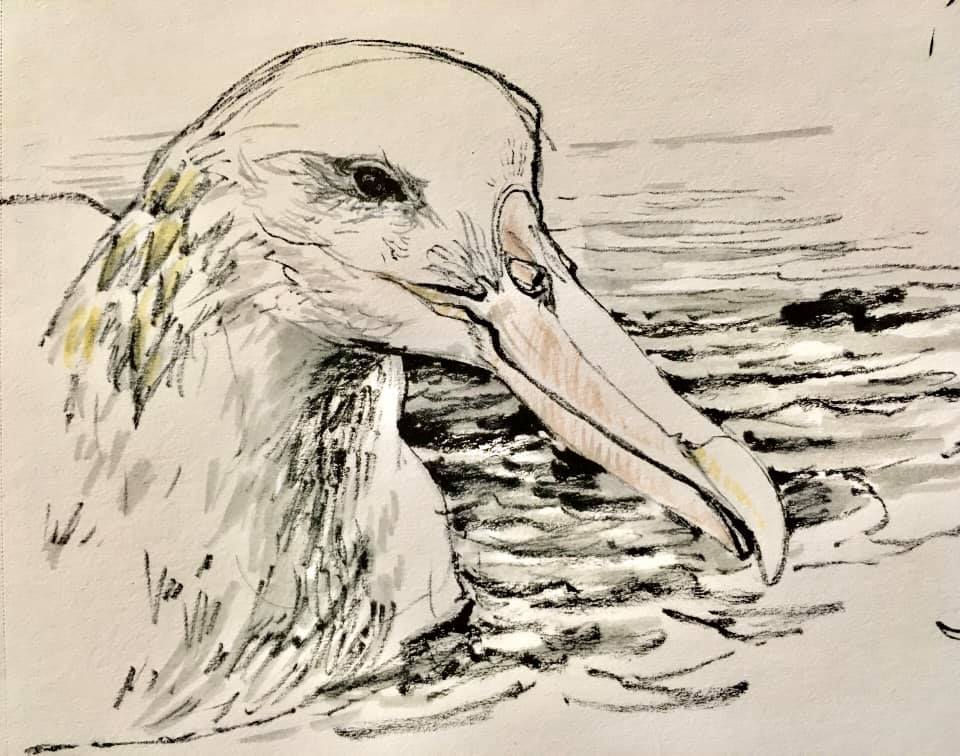 Wandering Albatross by April Grossruck for ACAP, from a photograph by Laurie Smaglick Johnson
Rory Crawford, Bycatch Programme Manager, BirdLife International Marine Programme writes on the occasion of the release of BirdLife's Albatross Task Force Annual Report for 2020/21:
"There's not a lot to say about 2020 that hasn't been said already. But in spite of it all, the Albatross Task Force has continued its course through some choppy seas and this is your annual dose of what we've been able to achieve! In the attached annual progress report you can find out all about our project activities in Argentina, Brazil, Chile, Namibia and South Africa between April 2020-March 2021, a year like no other."
"The big positive news of the past year was the publication of our paper demonstrating a 98% reduction in seabird bycatch in the Namibian demersal longline fishery since we were successful in pushing for regulations back in 2015. Over 20,000 seabird lives have been saved each year as a consequence – a reminder of why we do what we do, and huge credit due to the team in Namibia for making the magic happen! The paper picked up lots of great press coverage, including in BBC Wildlife Magazine, the Guardian and on the BBC World Service [and in ACAP Latest News].
"The pandemic has, of course, presented many challenges, but the adaptive nature of our teams has meant that we've still be able to train over 400 fisheries observers (via outdoor or online events) and work with governments and industry to advance trials of electronic monitoring of bycatch. Electronic monitoring is very much the future of ensuring that the collateral damage of fishing is properly understood and minimised, and the pandemic has accelerated efforts to test various systems – we're either supporting or leading trials in Argentina, Chile and South Africa.
"None of this would be possible without the collaborative efforts between our in-country partners and stakeholders, the RSPB and BirdLife International – as well as funding from the RSPB membership, foundations and generous individual donations. We are extremely thankful for the continued support we receive from you, without which we wouldn't be able to keep up the fight to save the albatross."
For regular updates follow @AlbyTaskForce on Twitter and read monthly updates on the ATF blog. E-mail This email address is being protected from spambots. You need JavaScript enabled to view it. to request the 15-page 2020/21 annual report.
John Cooper, ACAP Information Officer, 13 August 2021