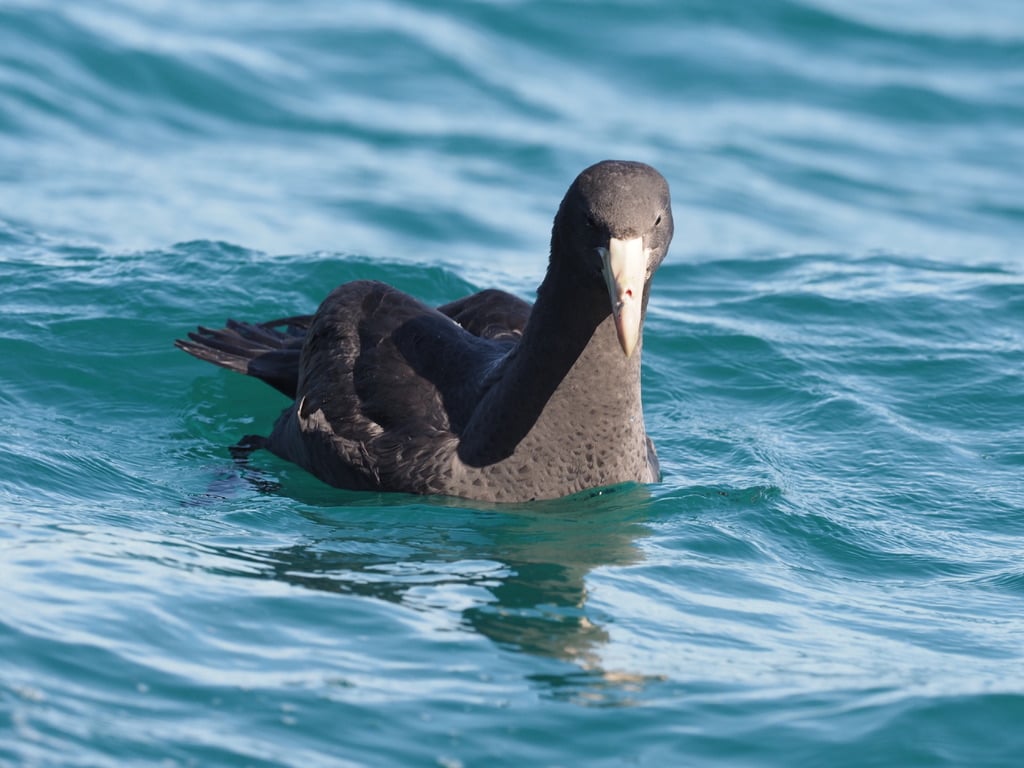 The Northern Giant Petrel after release at sea, photograph by Andy Cunningham
A recently fledged Northern Giant Petrel Macronectes halli (Least Concern) was found "in a paddock" in Washdyke, an industrial suburb north of Timaru, South Island, New Zealand early in the evening on 8 March. After overnight care, it was transferred next day to the Wildlife Hospital - Dunedin, where it was found to be in an "emaciated and weak state, similar to that of birds battered in a storm".
The young bird showed signs of renal failure and blood tests confirmed it was severely anaemic. However, following regurgitation of "chunks of plastic" the bird has showed signs of recovery, feeding on its own (see video) and swimming in a rehabilitation pool (video).
Following health assessments ("repeat tests all came back normal and he was beautiful and waterproof and had gained some good weight eating lots of salmon") the giant petrel was successfully released at sea on 1 April by Wildlife Vet Nurse, Emily Brewer aboard the mv Sootychaser during a wildlife cruise of Dunedin's Port to Port Wildlife Cruises out of Otago Harbour and past Taiaroa Head to the open sea (see video).
Read more here and view a video clip of a similar giant petrel release from the wildlife hospital by the Sootychaser last November. These are not the first Northern Giant Petrels the hospital has treated. Last year during July a bird brought the hospital with an injured wing was released on a beach (click here).