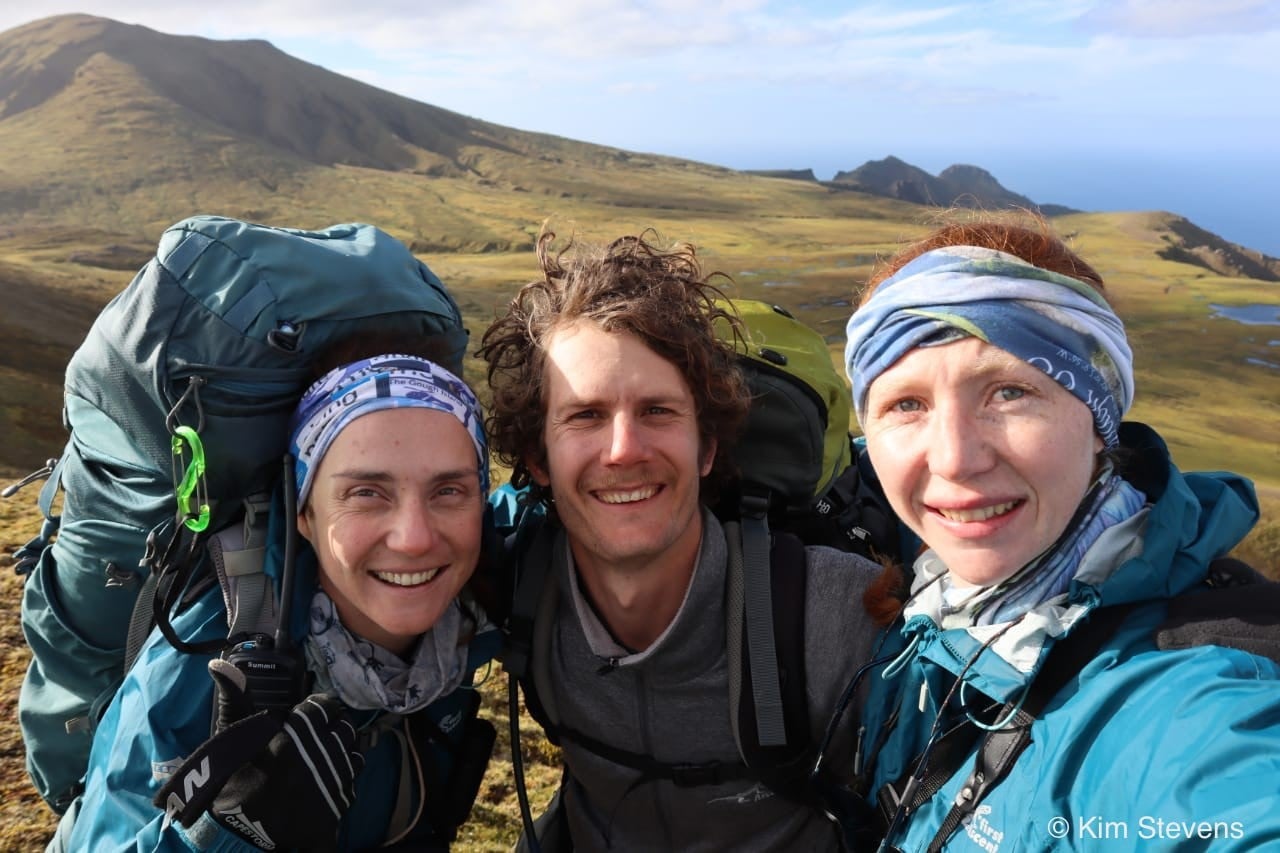 The current island field team, Vonica Perold, Roelf Daling and Kim Stevens, during the annual count of incubating Tristan Albatrosses, photograph by Kim Stevens
With the delayed attempt to eradicate Gough's House Mice now once more underway it is hoped that from next year the island's Critically Endangered Tristan Albatrosses will be able to breed without having to face many of their chicks succumbing to night-time attacks during the austral winter- as expressed in a Facebook post by the UK's Gough Island Restoration Programme (GIRP):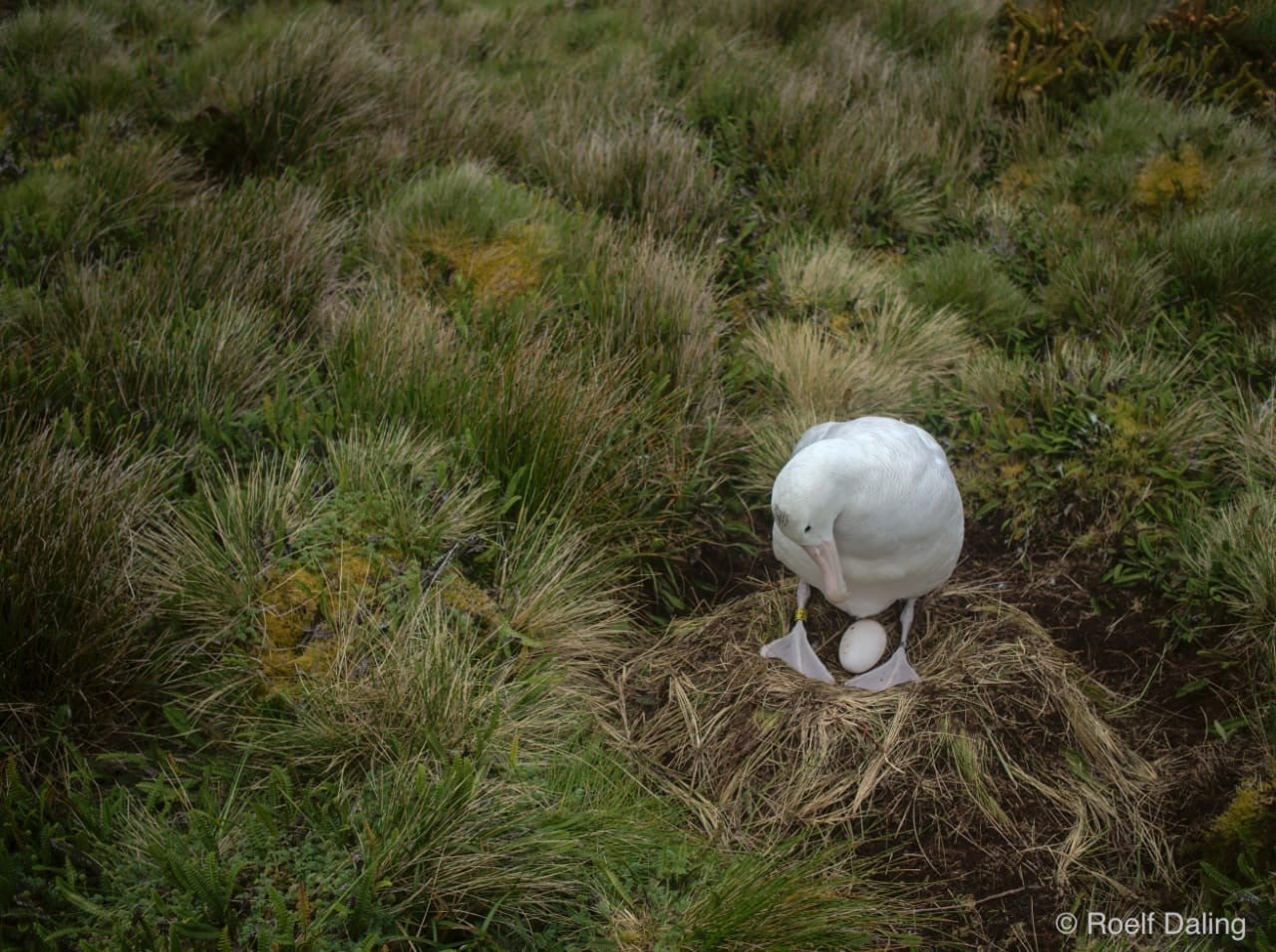 A colour-banded Tristan Albatross reveals its egg during the annual count, photograph by Roelf Daling
"Numbers are in! Our team just returned from their island-wide count of incubating Tristan albatrosses and the total is 1439! Due to mice predation, the breeding success of these gentle giants is exceptionally poor compared to similar species on rodent-free islands. We aim to reverse the species' fortunes by eradicating mice from Gough Island. The only realistic chance of removing all the mice will be over the southern winter. So, while we can't prevent the loss of eggs and young chicks to mice this year, we do hope chicks which survive until the end of winter will then have a decent chance to fledge successfully. And as adults start returning to the island in November for the onset of the next breeding season, this particular threat should hopefully have been removed once and for all!"
The Tristan Albatross, along with the equally Critically Endangered Waved Albatross Phoebastria irrorata of the Galapagos, have been chosen by ACAP as 'feature species' to support this year's World Albatross Day on 19 June. To this end 24 high-resolution posters suitable for display have been produced from three photographs of each species with texts in four languages, available for free downloading. More artworks depicting both threatened species will follow as World Albatross Day approaches.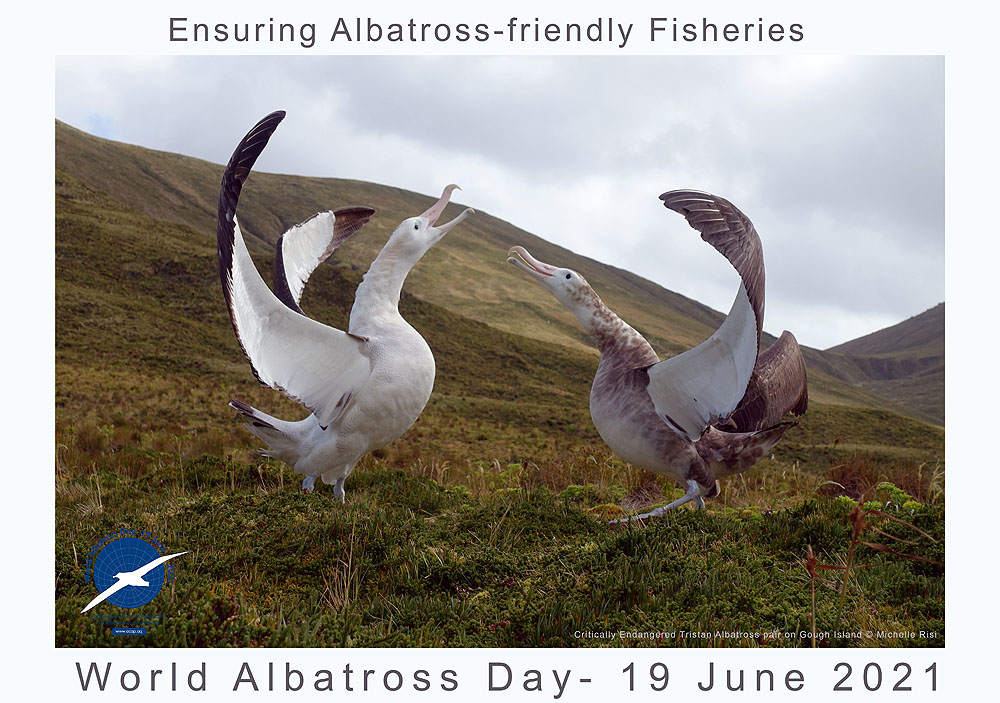 A 'WAD2021' Tristan Albatross poster, photograph and design by Michelle Risi
Read about the threats facing the Tristan and the other albatrosses in illustrated species summaries produced for the general public and for learners as part of last year's World Albatross Day celebrations.
John Cooper, ACAP Information Officer, 15 February 2021