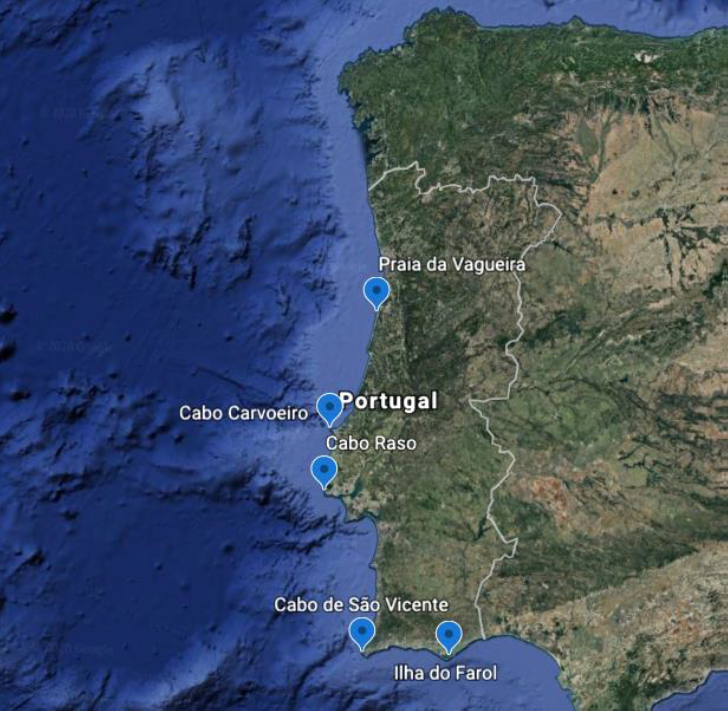 Location of observation points in 2019
The BirdLife partner, SPEA, has reported on the passage of nine seabird species, including the ACAP-listed and Critically Endangered Balearic Shearwater Puffinus mauretanicus, observed from five mainland sites along the coast of Portugal in 2019.
The report's summary follows:
"Seabirds are a relatively small group of birds but they have a global reach as they occur in every marine environment around the world. Due to their global abundance they are vital to understanding the status and ecology of marine environments. In recent decades, their status has been put under serious threat due to a wide range of anthropogenic factors. To better understand the seabirds ecology the RAM (Seabird and Marine Monitoring Network) census is used by Iberian researchers to collect data on seabirds in coastal areas.
This report refers to data collected during 2019 for the RAM census of Portugal. Census were carried out at 5 observation points -Praia da Vagueira, Cabo Carvoeiro, Cabo Raso, Cabo de São Vicente and Ilha do Farol. An observational effort of 116 hours was made, with Ilha do Farol having the highest observational time (36 hours) and Praia da Vagueira the lowest one (15 hours).
Data was collected to show monthly and annual passage rates (birds/hour) and also to carry out a behavioural analysis on the 9 target species: Razorbill (Alca torda), Cory's Shearwater (Calonectris borealis), Great Skua (Catharacta skua), Mediterranean Gull (Larus melanocephalus), Common Scoter (Melanitta nigra), Northern Gannet (Morus bassanus), European Shag (Gulosus aristotelis), Balearic Shearwater (Puffinus mauretanicus) and Sandwich Tern (Thalasseus sandvicensis). The observation point with the highest species diversity of seabirds was Praia da Vagueira (24 species), closely followed by Ilha do Farol (22 species). The month with the highest passage rate was March (436.96 birds/hour) and the observation point was Cabo Raso with 382.09 birds/hour."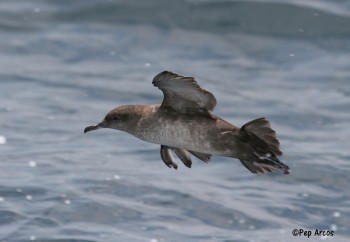 Balearic Shearwater at sea, photograph by Pep Arcos
Reference:
Adlard, E. & Fagundes, A.I. 2020. Iberian Network for Seabirds and Marine Mammals - Portugal Mainland Counts during 2019. Lisbon: Sociedade Portuguesa para o Estudo das Aves. 38 pp.
John Cooper, ACAP Information Officer, 25 January 2020