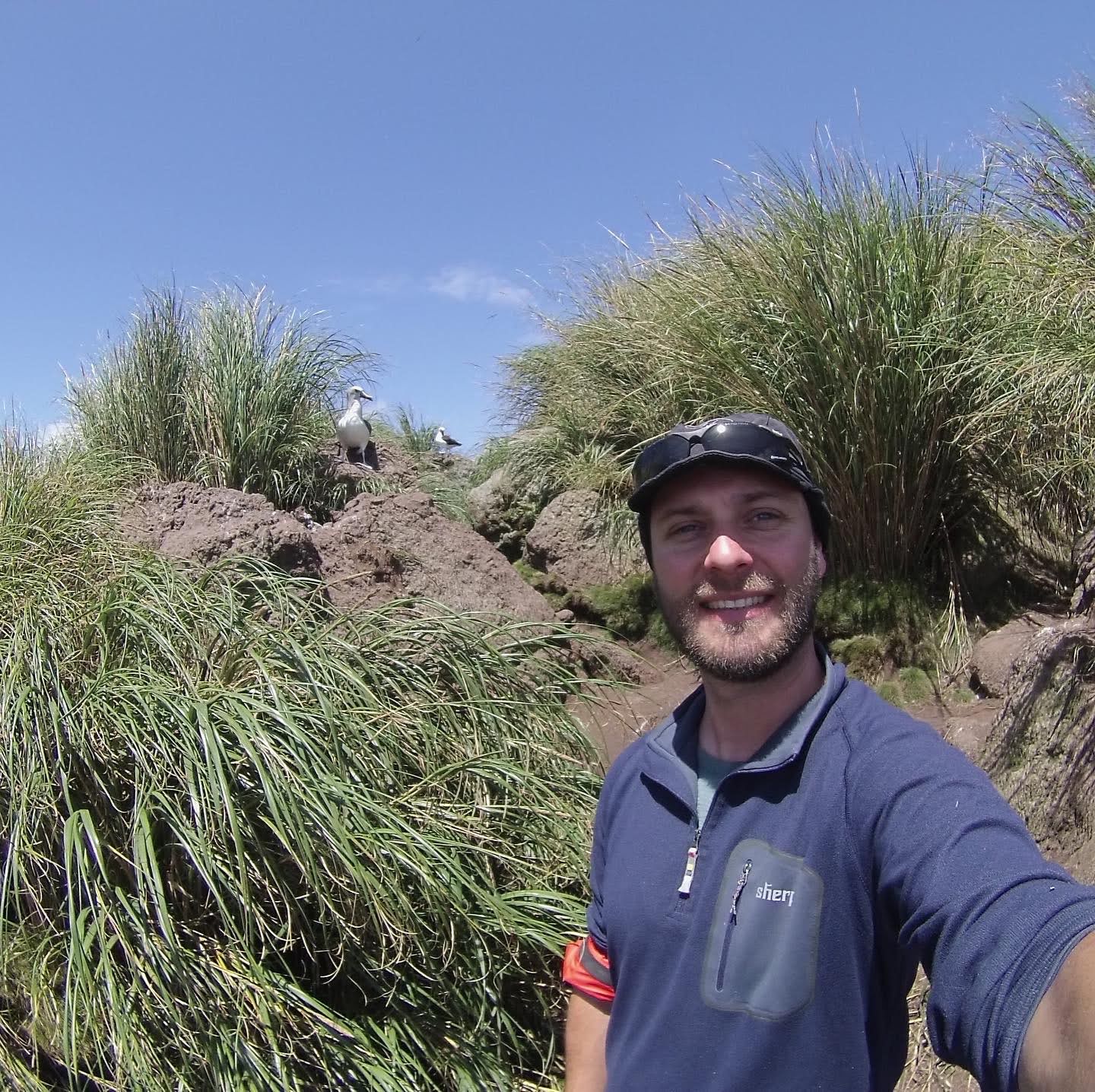 Oli Yates on Tristan da Cunha, with Atlantic Yellow-nosed Albatrosses in the background
The BirdLife International Marine Programme was led from 2013 by Cleo Small (now Cunningham), who left last year to become Deputy Head, Conserving Land and Seascapes for the UN Environment Programme's World Conservation Monitoring Centre. Her position has now been taken by Oliver (Oli) Yates, who previously was a Senior Marine Science Advisor at the UK's Centre for Environment, Fisheries and Aquaculture Science (CEFAS). Before then he had spent a decade working with BirdLife's Albatross Task Force, firstly as Coordinator based in Chile, and then as Programme Manager, based in the UK.
Oli Yates writes to ACAP Latest News:
"I am delighted to be joining the BirdLife International Marine Programme, returning to my roots after three years supporting development of marine protection strategies and RFMO engagement under the UK Government's Blue Belt Programme. The Birdlife International Marine Programme has a well-established team dedicated to the conservation of threatened seabirds and the marine habitats and ecosystems they rely on. The Programme focuses on reducing multiple threats to vulnerable seabirds through i) grass-roots projects and fishery sector engagement to develop and implement seabird bycatch mitigation measures in target fisheries, and ii) marine science to inform national, regional and global marine policy decisions - particularly through provision of strong spatial and temporal evidence to demonstrate the most important places for seabirds and associated biodiversity."
"The Marine Programme is managed on behalf of BirdLife by the United Kingdom's Royal Society for the Protection of Birds (RSPB) and conducted through the BirdLife network of NGOs and collaborating in-country organisations. Our work is possible thanks to generous support from the RSPB membership, David & Lucile Packard Foundation, National Fish and Wildlife Foundation, MAVA Foundation, and Fondation Segré, amongst other international funds. We have always worked closely with the ACAP Secretariat and Parties to support activities that mitigate threats to ACAP-listed seabird populations and I very much look forward to continuing that collaboration."
Oli Yates has a MSc in Geographical Information Systems from the University of Southampton. Click here for a listing of scientific papers co-authored by Oli on seabird bycatch mitigation.
With thanks to Oli Yates.
John Cooper, ACAP Information Officer, 19 January 2021