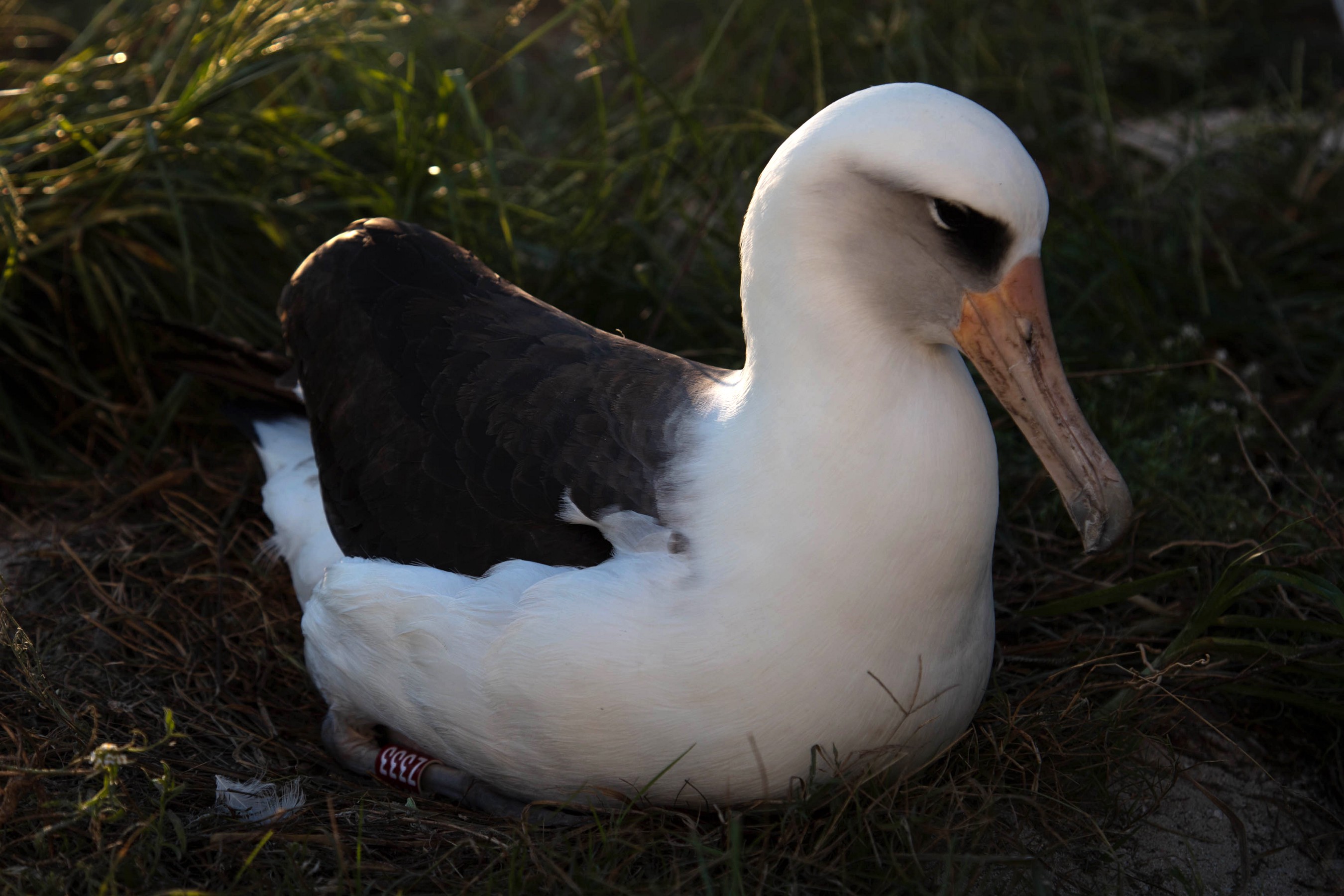 Wisdom incubates her latest egg last month, with her red Z333 colour band visible; photograph by Jon Brack, Friends of Midway Atoll NWR
Following taking a 'gap year' in the 2019/20 breeding season, Wisdom, the world's oldest known Laysan Albatross Phoebastria immutabilis, and her current mate Akeakamai, have returned to Midway Atoll and are incubating an egg.
Extracts from a post by the U.S. Fish and Wildlife Service: Pacific Islands follow:
"Wisdom, is a Mōlī (Laysan Albatross) and the world's oldest known, banded wild bird has returned to Midway Atoll National Wildlife Refuge and Battle of Midway National Memorial. At least 69 years old, the first observation of Wisdom at her nest site took place on November 29, 2020. Biologists have confirmed that she has laid an egg. Each year millions of albatrosses return to Midway Atoll in Papahānaumokuākea Marine National Monument to nest and raise their young. Culturally, albatross species are kinolau (body form) of the Hawaiian deity Lono. The birds' return to land for mating coincides with the beginning of the makahiki season [Hawaiian New Year] occurring between October and November, and an important aspect to some practitioners' ceremonies and practices during that time.
"Every year that Wisdom returns, she is rewriting what we know about albatross longevity — and inspiring the next generation," said U.S. Fish and Wildlife Service Monument Superintendent Jared Underwood. "Wisdom helps us better understand how long these birds live and how often they breed. This knowledge informs our management actions to ensure a future for albatrosses that rely on the Refuge and Monument."
"Wisdom and her mate have met on Midway Atoll to lay and hatch an egg almost every year since 2006. Wisdom has laid between 30–36 eggs in her lifetime. In 2017, the chick that she fledged in 2001 was observed just a few feet away from her current nest, marking the first time a returning chick of hers has been documented."
Access the many posts to ACAP Latest News featuring Wisdom; and read more on her breeding activity over the last decade.