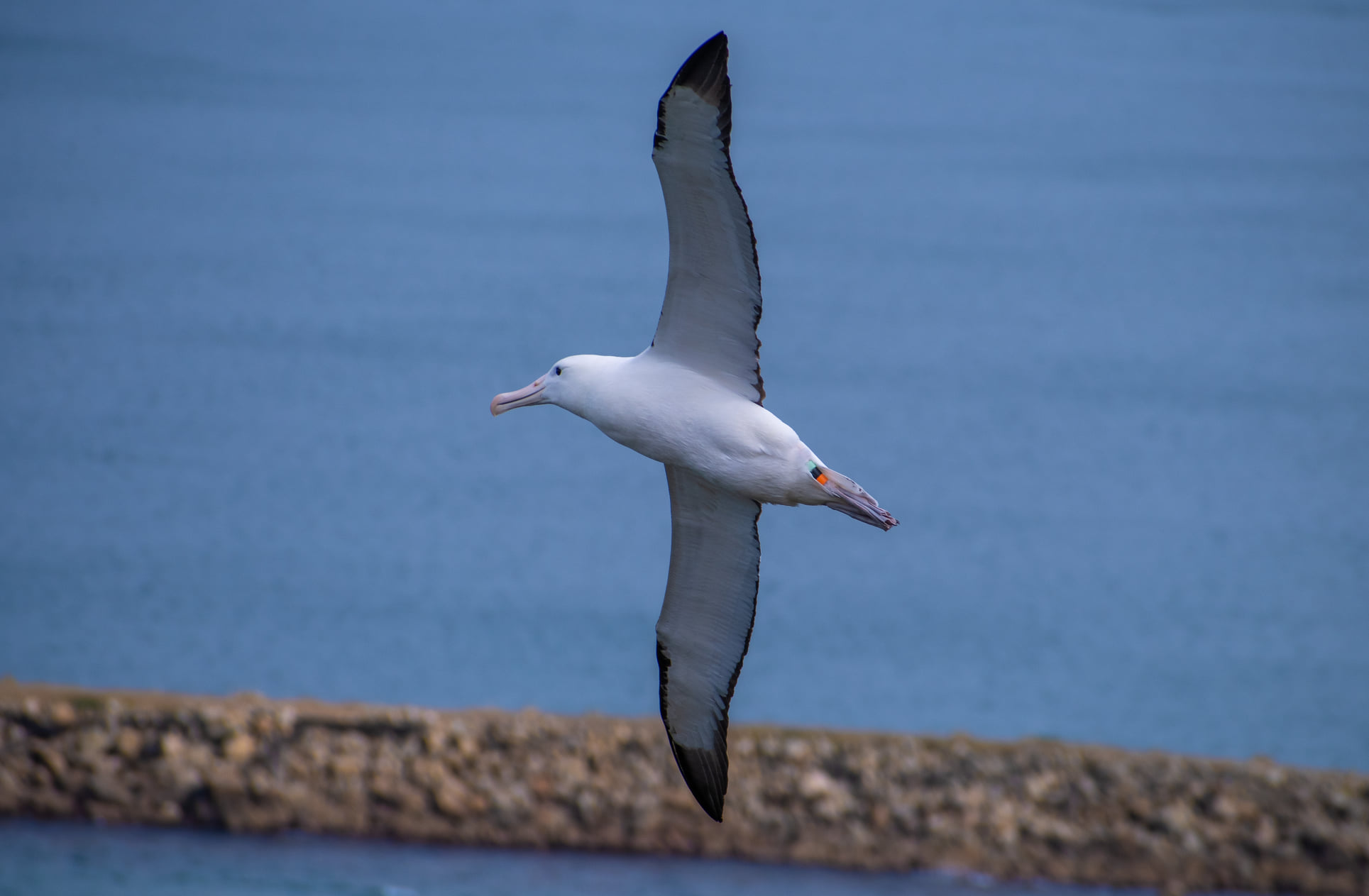 LKO (colour-banded light blue, black, orange), an 11-year-old female, flies over the colony
The 2020/21 breeding season of globally Endangered and nationally Naturally Uncommon Northern Royal Albatrosses Diomedea sanfordi is now well underway in Aotearoa/New Zealand's only mainland albatross colony at Pukekura/Taiaroa Head on the end of South Island's Otago Peninsula. A total of 41 eggs has been laid; the latest an egg has ever been laid in the colony is 1 December, so no more are expected from today. Note this figure does not include any female/female pairs that lay eggs each that would boost the count. The eggs will start hatching in mid-January before fledging more than seven months later in September or October. Over 120 individually marked birds have been recorded in the colony since the new season commenced, some of them non-breeding birds. Department of Conservation Biodiversity Ranger Sharyn Broni says it's the second highest number of eggs recorded at the colony and is the sign of a good season ahead.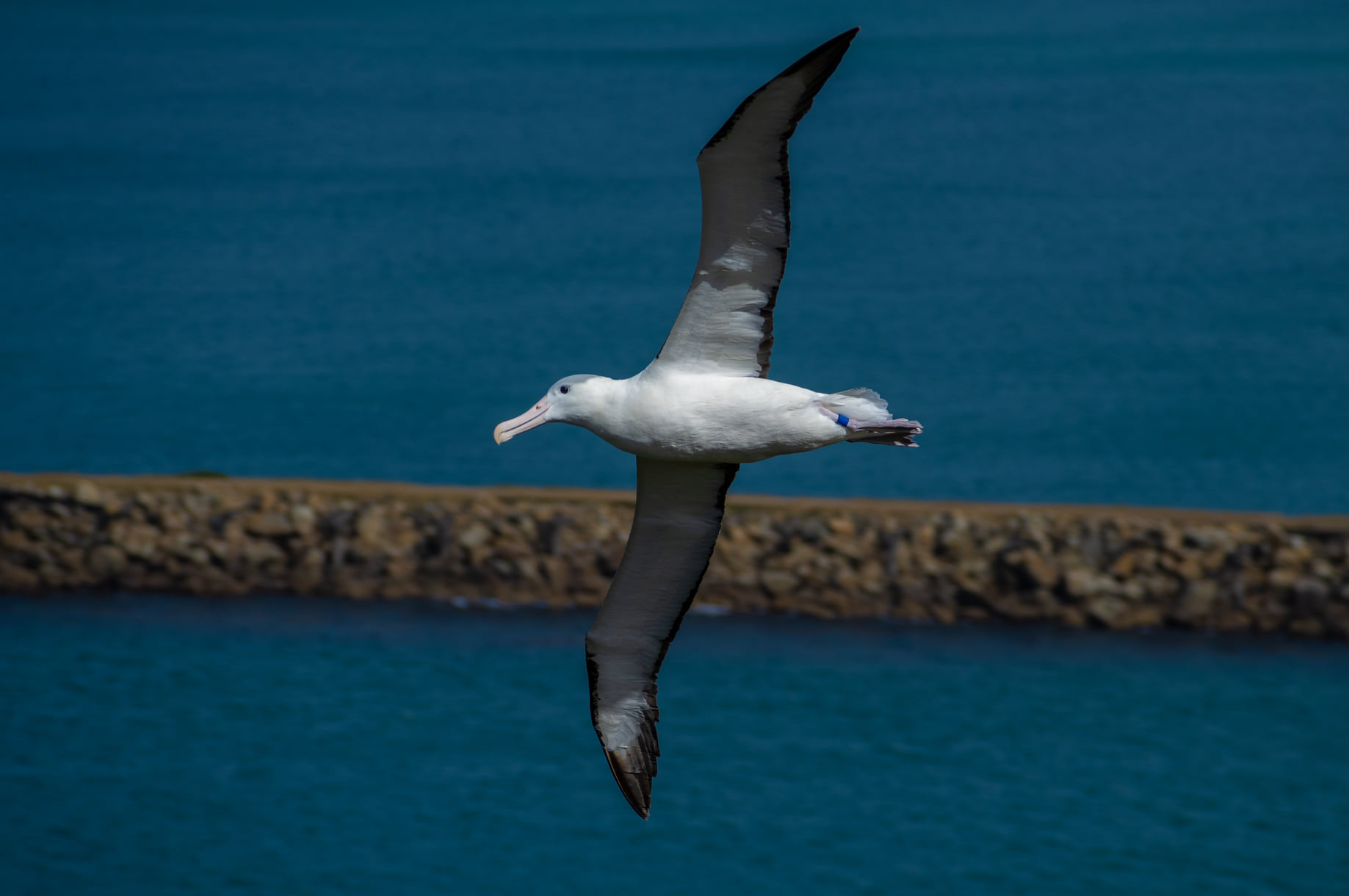 "The blue-banded albatross will be a young adult that has returned to the headland after spending years out at sea. On average, the Northern Royal Albatross spend five years out at sea before returning to the headland to find a partner and start breeding when they are around eight years old."
This season's total compares with 36 eggs laid in the 2019/20 breeding season, from which 24 chicks fledged, with the last leaving the headland on 3 October this year – giving an overall breeding success of 66.7%. Fifty-one eggs were laid in the 2018/19 season, a record from which 28 chicks fledged (54.9%) (click here).
The live-streaming 'Royal Cam' (which also has night vision) is back in action from this month for its sixth season, directed this time at the incubating pair LGL (a 12-year-old female) and LGK (an 11-year-old male). The Department of Conservation reports: "The couple are the parents of Karere, the star of the 2018/19 season. This is the first time a pair has been seen mating and the egg laid in view of the cam. LGL and LGK have set up a nest and laid an egg, which has been candled to check it is fertile [it is]. It is their third breeding attempt at the Pukekura/Taiaroa Head colony after they first got together in 2017 [when their breeding attempt failed at the egg stage]. Since fledging Karere in 2019, they have had a year to build up condition for the 2020/21 breeding season" Great albatrosses, such as the Northern Royal, only breed biennially (every second year) if successful due to their long breeding season.
Last season (December 2019 to September 2020), the Royal Cam had more than 2.5 million views globally and was watched for 584 000 hours.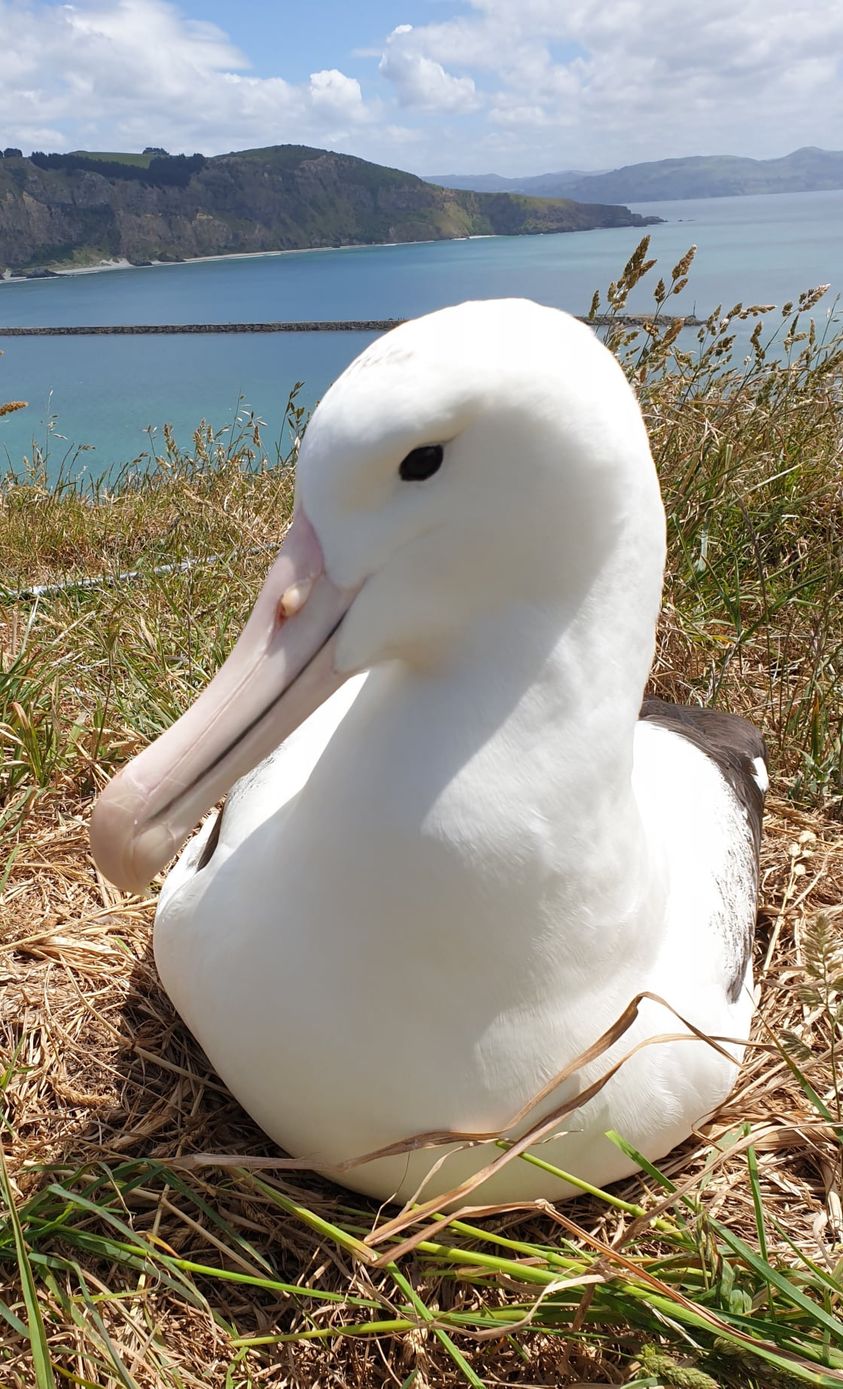 The male LGK incubating at the 2020/21 Royal Cam nest site; the egg was laid on 07 November 2020. Photograph by Sharyn Broni
"Royal Cam Albatross ~ LGL Returns Home After 13 days"
Additional information and photographs from the Royal Albatross Centre and the Royal Cam Albatross New Zealand Facebook pages.

John Cooper, ACAP Information Officer, 01 December 2020