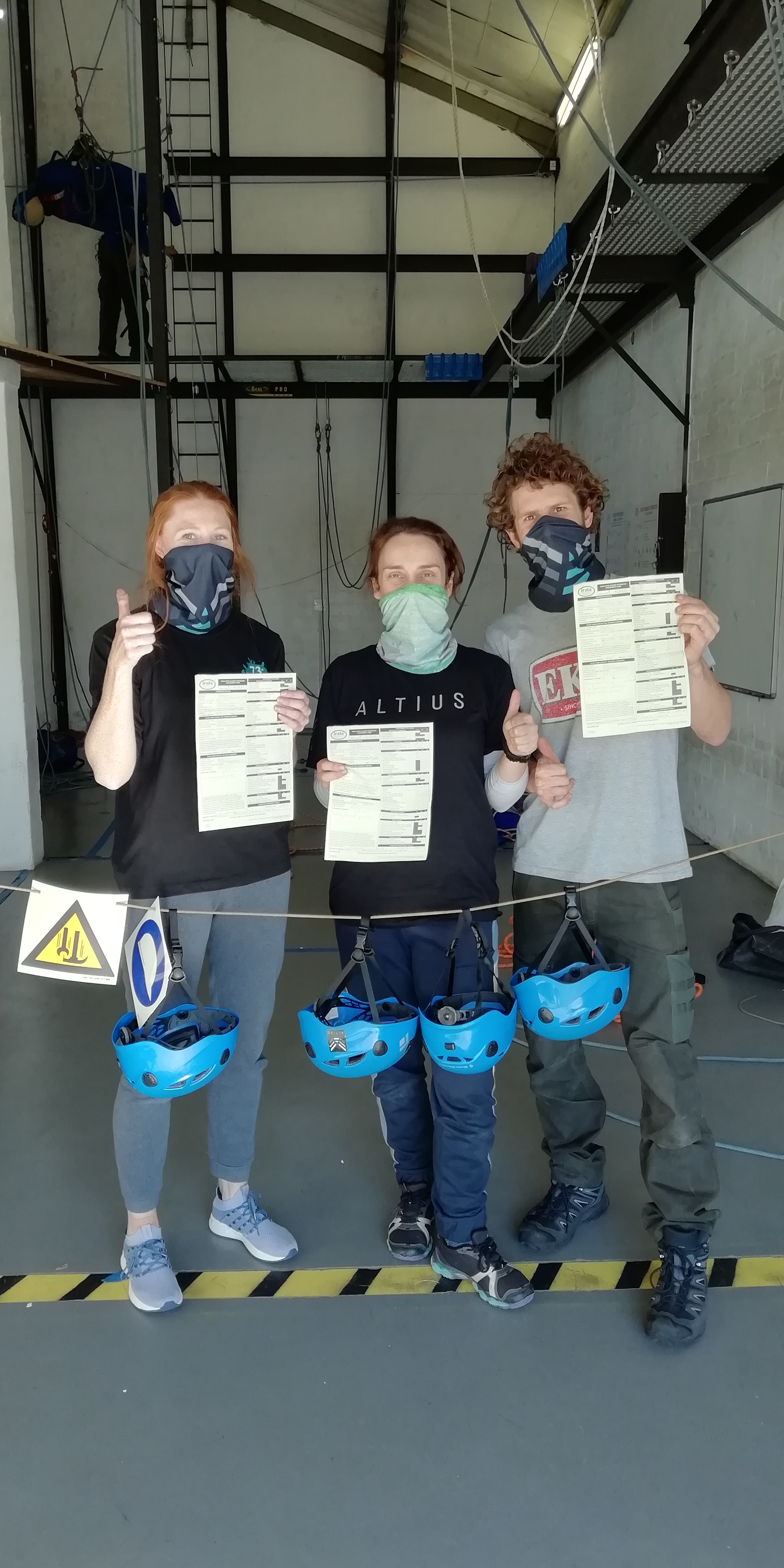 Kim Stevens, Vonica Perold and Roelf Daling (suitably masked) after completing an IRATA Level 1 rope access course, required for safety purposes on mountainous Gough
Next month, South Africa will undertake the annual relief of its weather station on the United Kingdom's Gough Island in the South Atlantic. The relief is set to take place despite concerns emanating from the COVID-19 pandemic that hampered the annual relief earlier this year of South Africa's other sub-Antarctic base, on Marion Island in the southern Indian Ocean (click here).
As will be well known to regular readers of ACAP Latest News, Gough Island is both the home of large seabird populations – including of five ACAP-listed species – and of introduced House Mice that have taken to attacking and killing birds, most notably chicks of the Critically Endangered Tristan Albatross Diomedea dabbenena. Difficulties with international travel due to the pandemic caused the Gough Island Restoration Programme (GIRP) to cancel the intended mouse eradication exercise this austral winter, now intended to be undertaken next year (click here).
A three-person GIRP team (Chris Jones, Alexis Osborne and Michelle Risi) has been on Gough Island for two years, following colour-banded birds in long-term study colonies of Tristan Albatrosses, Atlantic Yellow-nosed Albatrosses Thalassarche chlororhynchos and Southern Giant Petrels Macronectes giganteus and recording the continued depredations by the 'killer' mice. They will be replaced next month by a new team consisting of South Africans Roelf Daling, Vonica Perold (who has previously visited Gough) and Kim Stevens. Both Kim and Vonica are PhD students at the University of Cape Town's FitzPatrick Institute of African Ornithology and are experienced field researchers, having spent time studying seabirds on Marion Island. Kim's thesis research has been on the foraging ecology and breeding success of the Grey-Headed Albatross Thalassarche chrysostoma on Marion Island. Vonica is working on temporal and spatial heterogeneity in marine plastic pollution, using seabirds, neuston nets and beach litter for her degree. They both intend to submit their theses in 2022.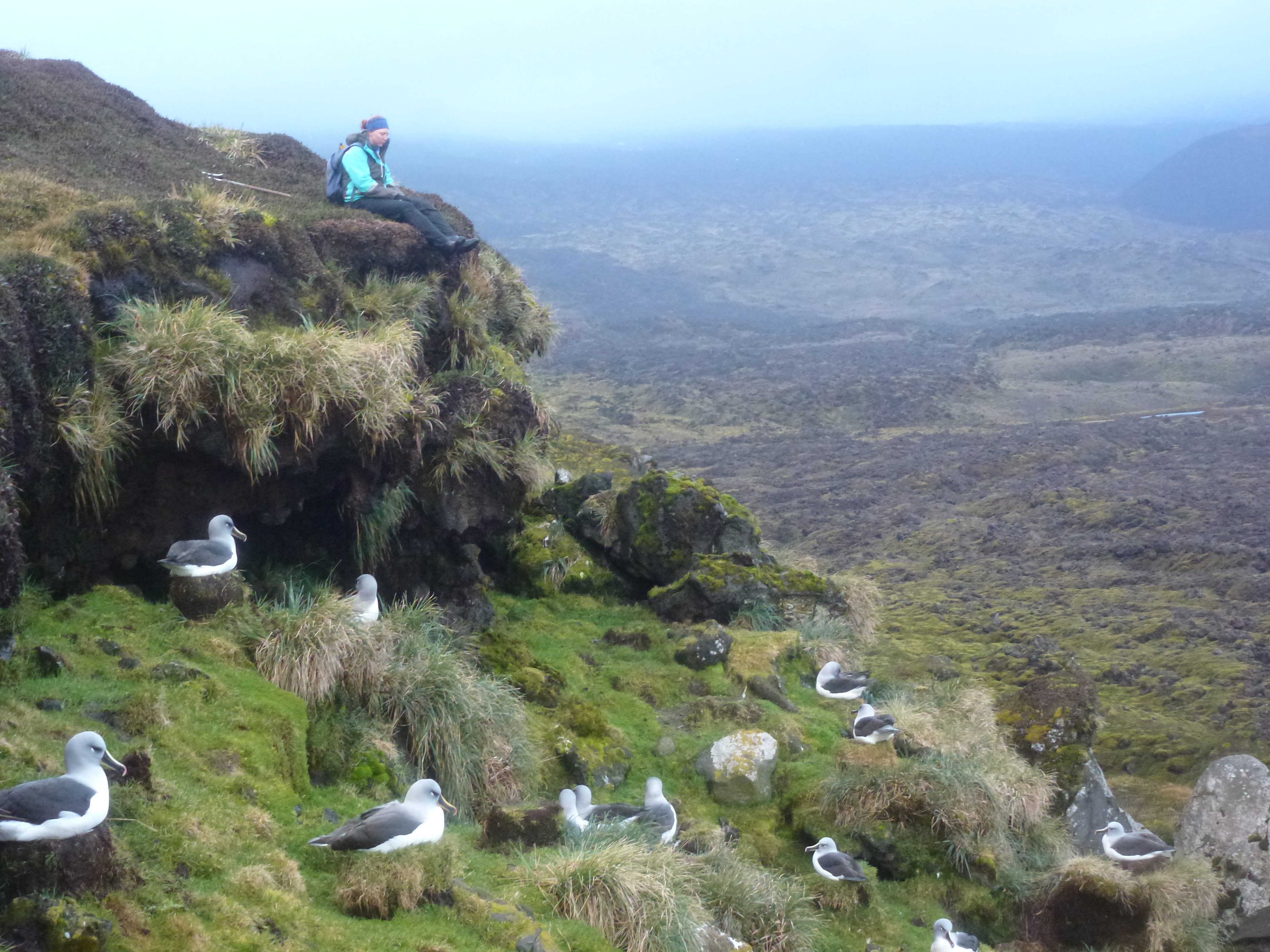 Kim Stevens rests above a Grey-headed Albatross colony on Marion Island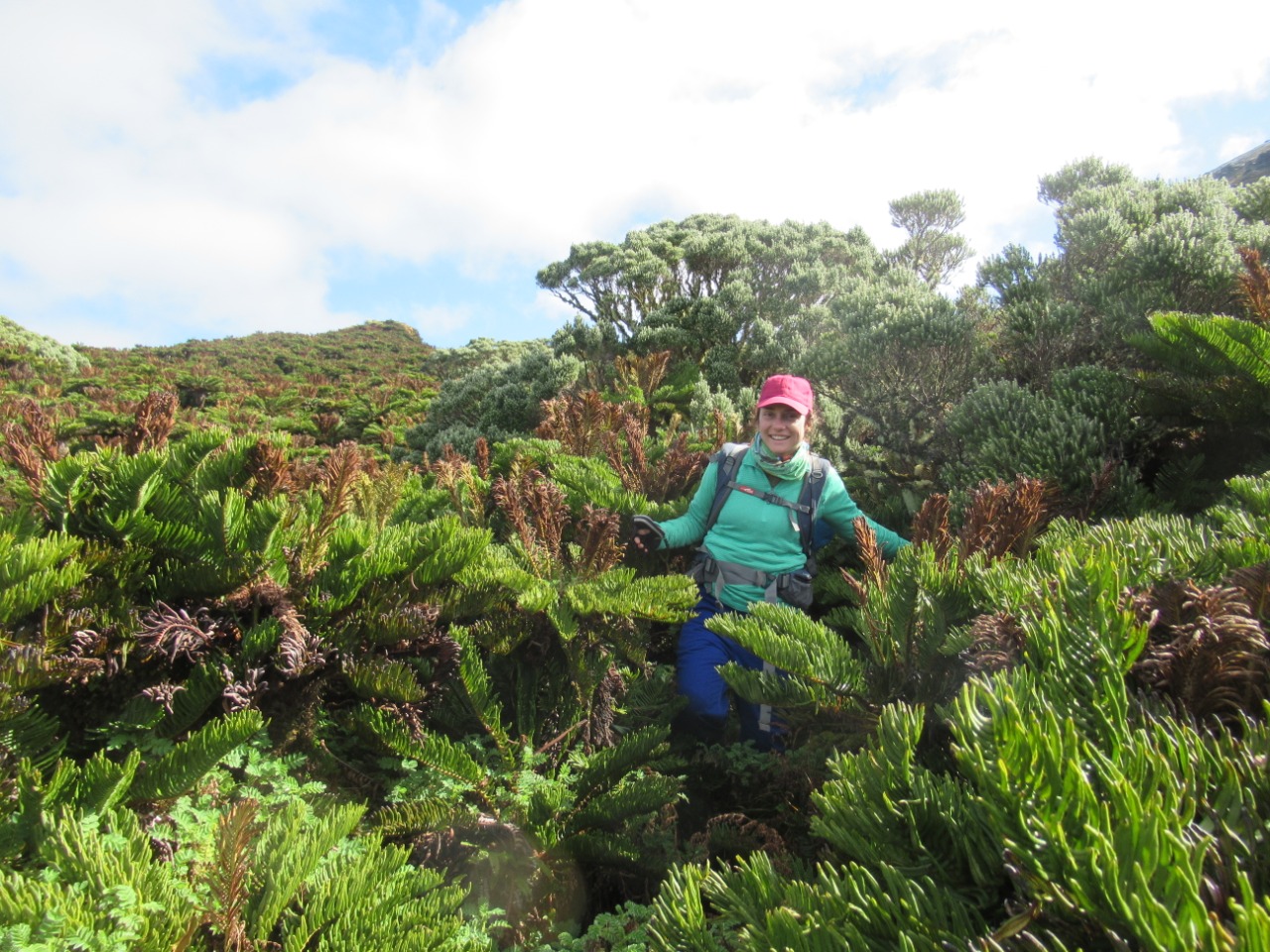 Vonica Perold among Gough's lowland vegetation during the 2019 relief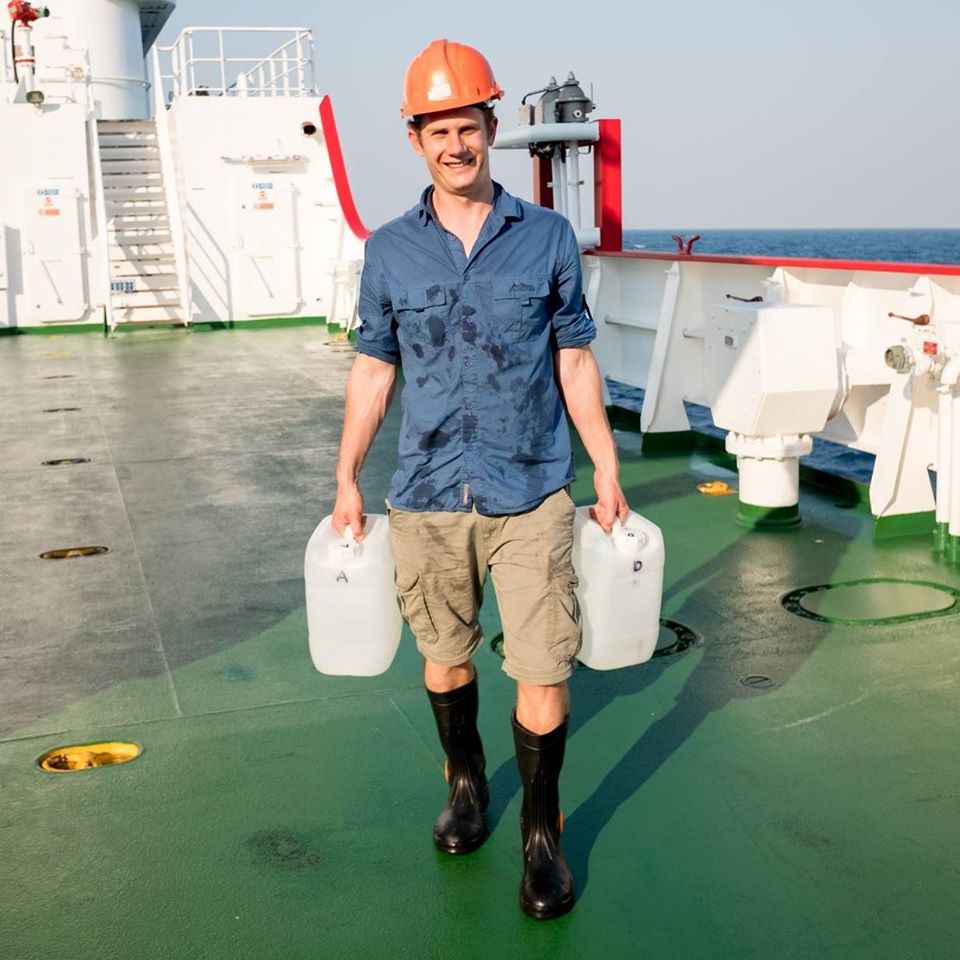 Roelf Daling aboard the S.A. Agulhas II on an oceanographic cruise in 2017
The expected sailing date is 17 September on South Africa's Antarctic research/supply ship, the S.A. Agulhas II. The field team, along with their fellow G66 expedition members, will be quarantined for two weeks in a government-approved facility in Cape Town before sailing, to reduce the risk of taking the COVID-19 virus to the island. Kim writes of the quarantine period: "We will be continuing with computer-based training … so we should have enough to keep us busy, but I still have a few projects on the go just in case things are quiet". Such as a couple of thesis chapters?
With thanks to Vonica Perold and to Kim Stevens - who can also bake and decorate a mean albicake!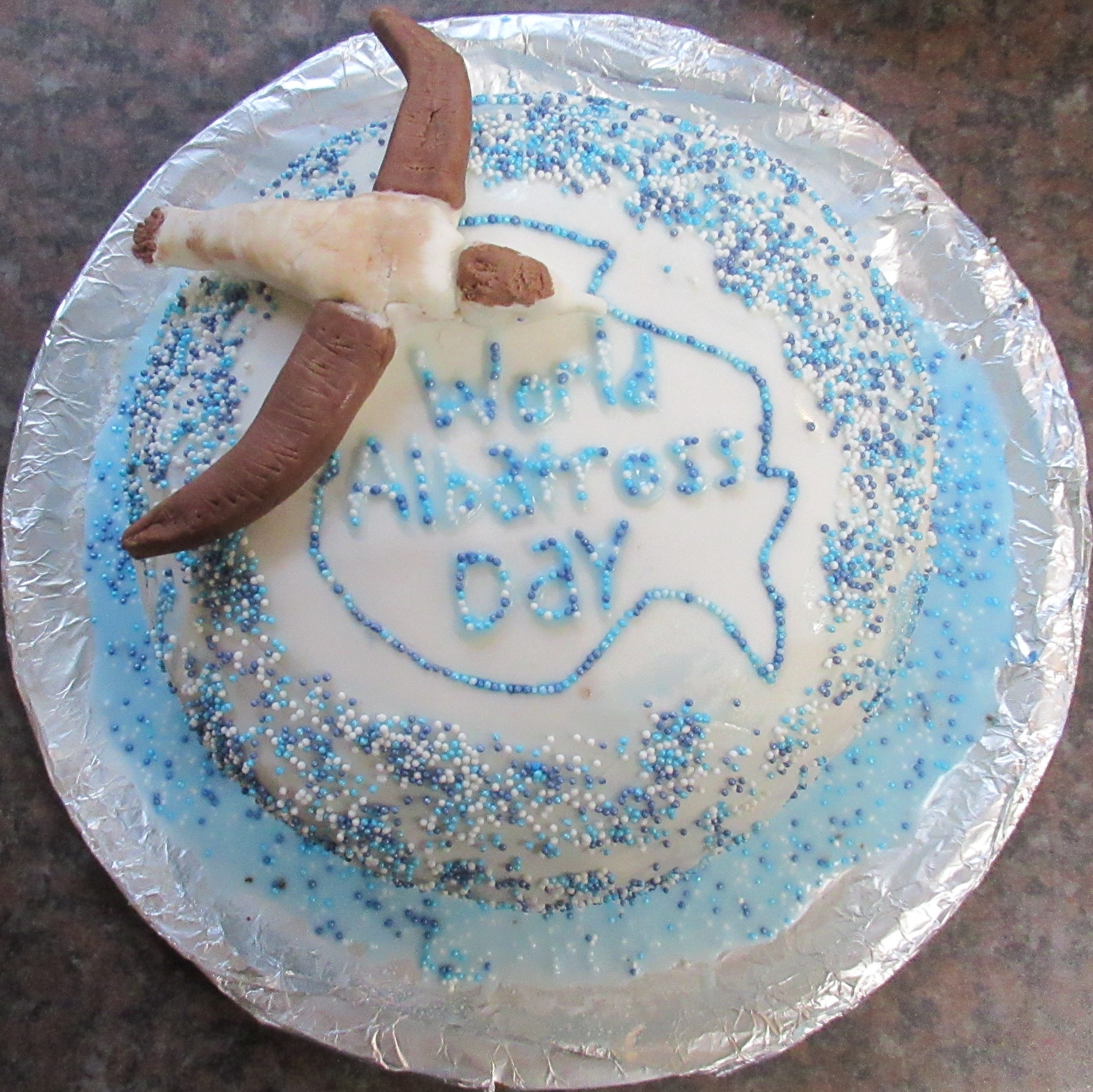 Kim's "Flying Tristan Cake": a four-layered chocolate cake with coffee buttercream icing in the shape of the world, with a female Tristan Albatross flying over it
John Cooper, ACAP Information Officer, 27 August 2020