A Kilauea Point Laysan Albatross, lighthouse in the background, photograph by Jacqueline Olivera

The Kīlauea Point National Wildlife Refuge on the Hawaiian island of Kauai was established to preserve and enhance seabird breeding colonies, including the Laysan Albatross or Mōlī Phoebastria immutabilis (click here). The Kīlauea Point NWR supported a total of 116 pairs of Laysan Albatrosses in the 2019/20 breeding season according to a Facebook post dated 17 April. "Of those, 31 nests failed to hatch (broken, missing, etc.), 14 failed to hatch (but were incubated to full term), and 71 successfully hatched" (giving a hatching success of 61.2%). "Of these 71, 19 chicks are missing or depredated (suspect feral cat [click here], feral pig, or owl) and 52 were alive and being fed by parents, although some chicks seemed very small and thin for their age".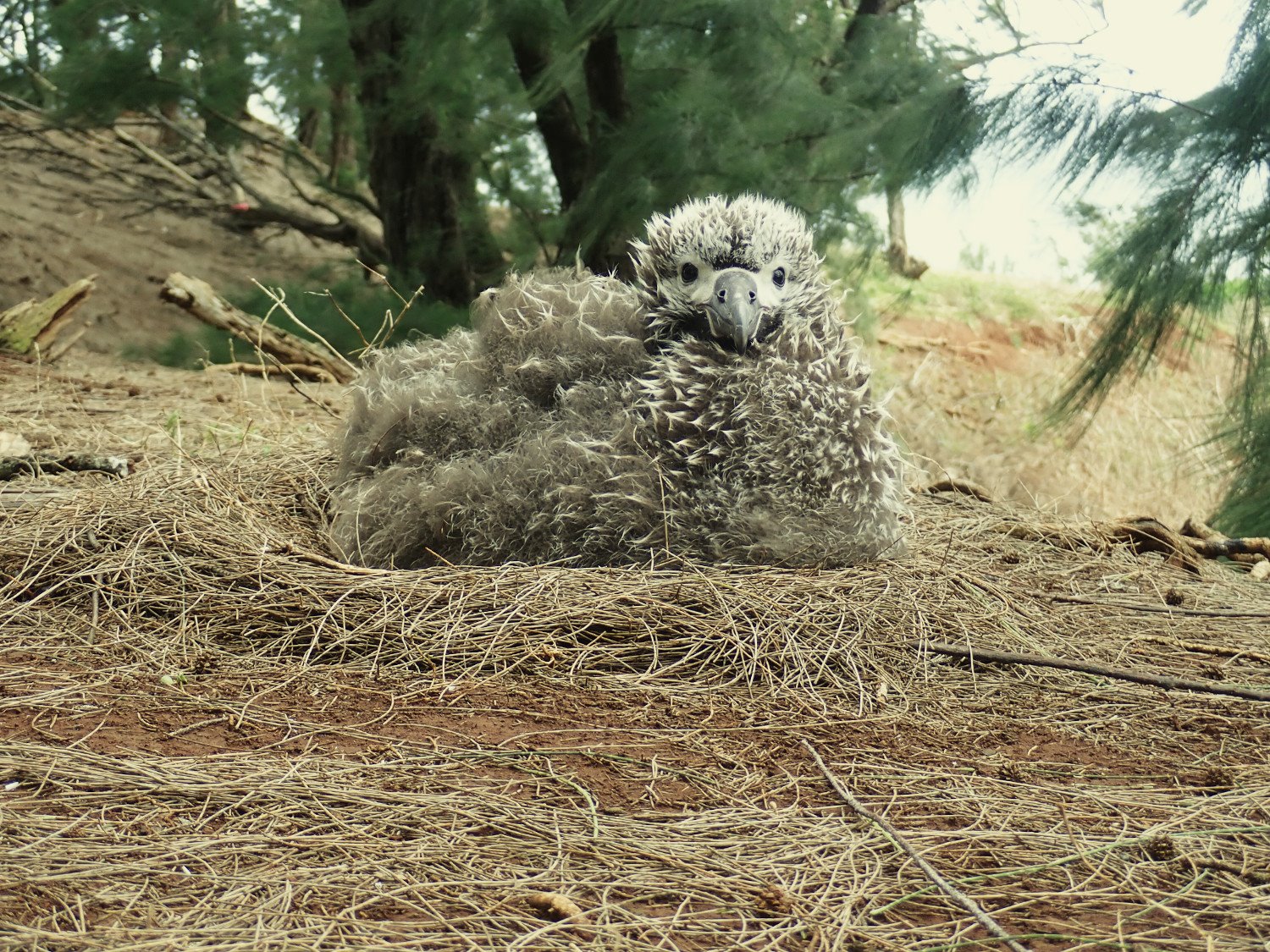 A downy Kilauea Point Laysan Albatross chick, photograph by Jacqueline Olivera
Following an enquiry at the time, the KNWR replied "the birds are protected by a fence that keeps out dogs and pigs. Though, as you know, pigs are a persistent beast all their own and are still a concern which is why we actively conduct predator control for them if they breach our fence lines". A later report by USFWS Biologist Kim Uyehara, states "We … have an old fence, which feral pigs regularly breach and feral cats easily climb over. We look forward to a new mammal-proof fence within the next few years". It is further reported that ground wortk fior the new fence will commence next year.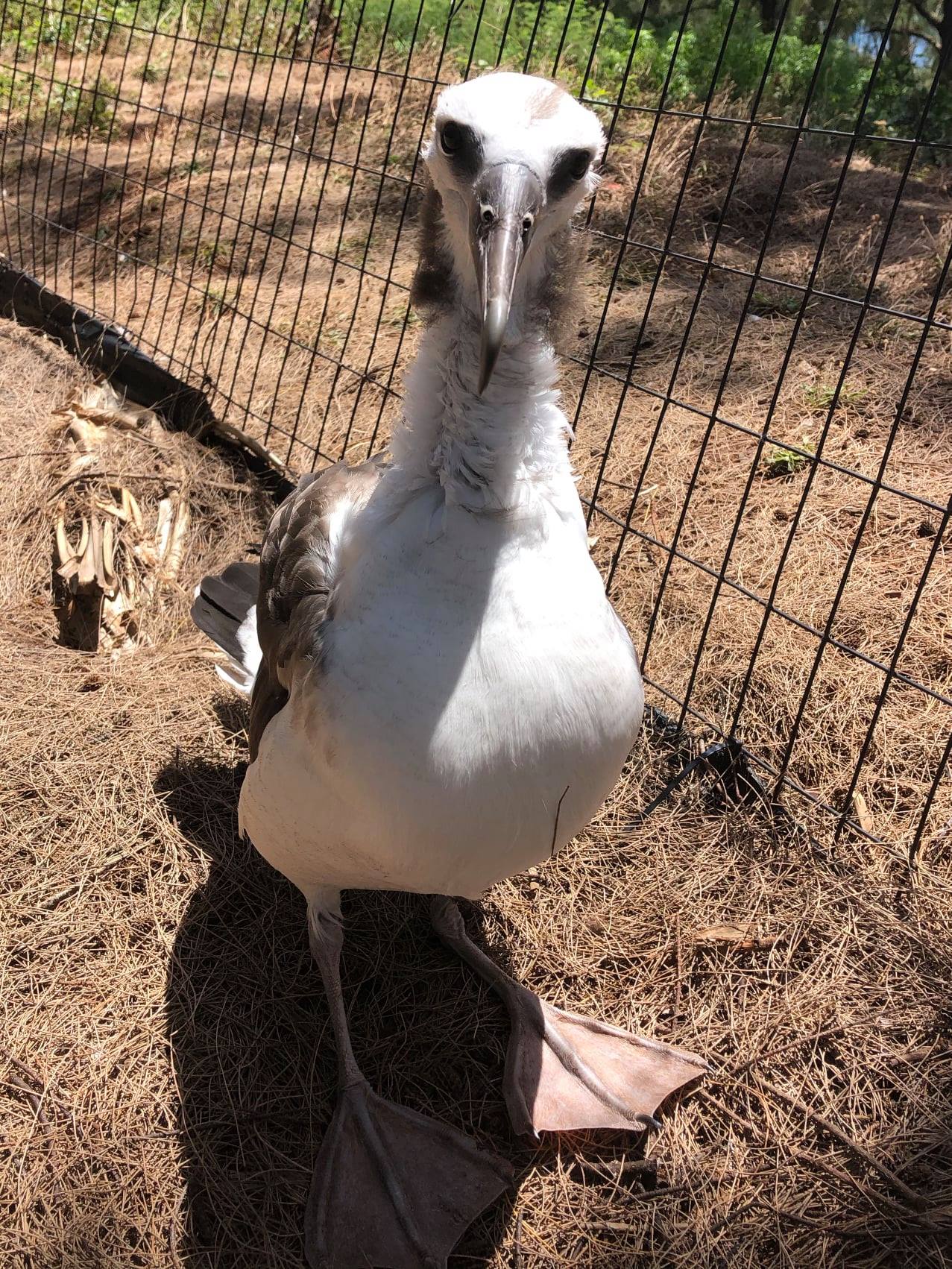 A Kilauea Point Laysan Albatross chick approaching fledging against the current pig-proof fence - that will not keep out feral cats, photograph by Louise Barnfield

The August 2020 edition of Wild Times, the newsletter of Friends of Kauaʻi Wildlife Refuges, reports "Laysan albatross (mōlī) fledging success rates at Kīlauea Point NWR this year are much lower than usual with only 36 chicks fledging out of 115 nests [within the fence*]. Low fledging success may be linked to decreased invasive species management capability as a result of staff shortages, reduced capabilities during the COVID-19 closure and challenges with extensive staff time needing to be devoted to avian botulism outbreaks at Hanalei NWR."
However, an update received from Louise Barnfield, KPNWR volunteer who surveys the albatross colony, includes late fledging chicks to give a total of 44. Overall breeding success for the 2019/20 season was thus 37.9% (with a fledging success of 44/71 or 62.0%). The chicks were not banded prior to fledging. In the previous season (2018/19) 121 active nests were counted in December 2018.
*Note that one of the 116 nests in 2019/20 was just outside the existing fence.
With thanks to Louise Barnfield, KPNWR volunteer.
John Cooper, ACAP Information Officer, 21 August 2020, updated 02 September 2020